Would you buy a house site unseen?
It seems like a very obvious answer, however more and more buyers are opting to buy a home without ever stepping inside of it. Palm Springs real estate sales are continuing during the COVID-19 crisis regardless of the current challenges. Our brokerages in Palm Springs, put 54 homes under contract, just this last week. Realtors have scrambled to provide more detailed online access to their listings, offering virtual tools to give buyers a feel for home. Even though real estate in California is considered an Essential Business, our buyers in Palm Springs typically come from around the globe, where most people are under stay at home orders, and unable to visit or preview properties in person. Yet homes are still being sold.
We're changing with the times! At the Paul Kaplan Group, we've adapted our business to find ways to still show properties for those wanting to continue on with a home purchase. Virtual tours online are growing more common, whether through video or 3D mapped tours like Matterport, so that home shoppers can feel they have experienced the entire house, not just the angles and compostions captured in photographs. Our agents are also conducting private video showings via platforms like Zoom, FaceTime, Skype, or others so clients can view properties from the comforts of home.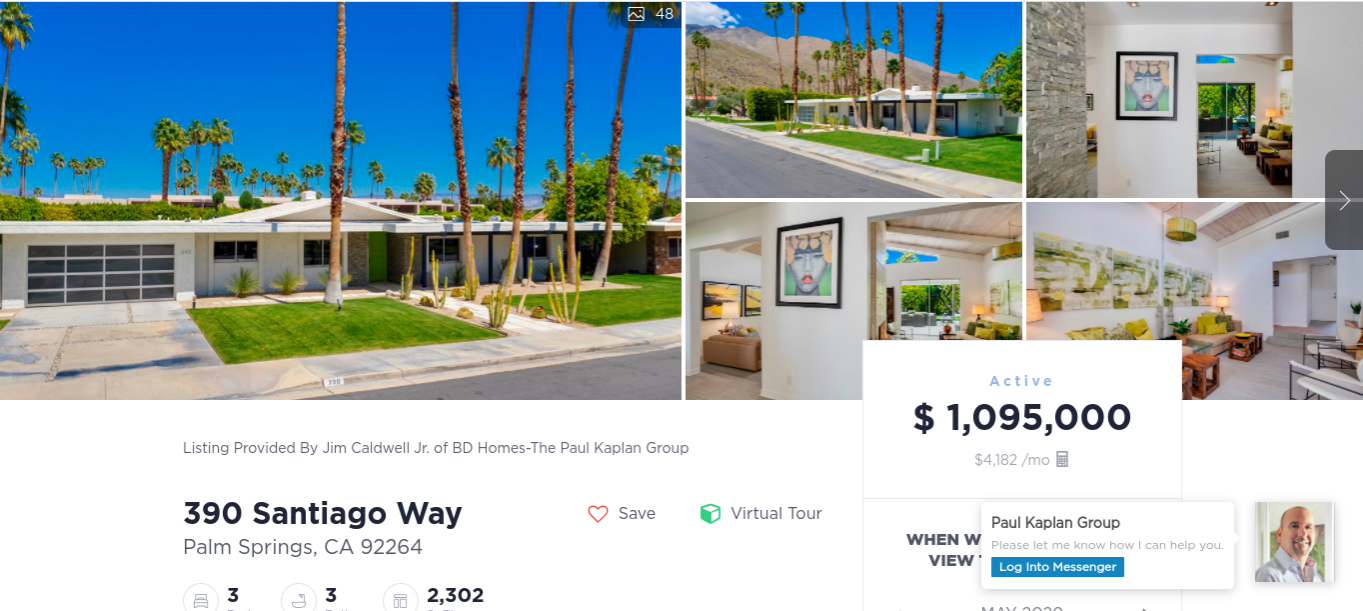 Our virtual services are leading to offers. Some of our buyers are willing to put an offer on a home without even physically stepping inside. We're not unique here in Palm Springs. A quarter of REALTORS® surveyed by the National Association of REALTORS® April 12–13 reported that their clients put contracts on homes this week without seeing the property in person.
Buyers during the pandemic that shop tend to be serious. Per a recent National Association of Realtors survey, buyers had viewed three homes prior to placing an offer, either virtually or in person. Compared to 2019, the average amount of homes a buyer typically looked out priort to placing a contract on a home, was 9.
Although sales are slowing, there still is a demand for real estate in Palm Springs. A recent study by the Palm Springs Regional Association of Realtors, shows our sales in Palm Springs are down approximately 50% in April. Although sales are down, so is inventory. Thus, overall, there hasn't been a big change in the amount of homes available for sale.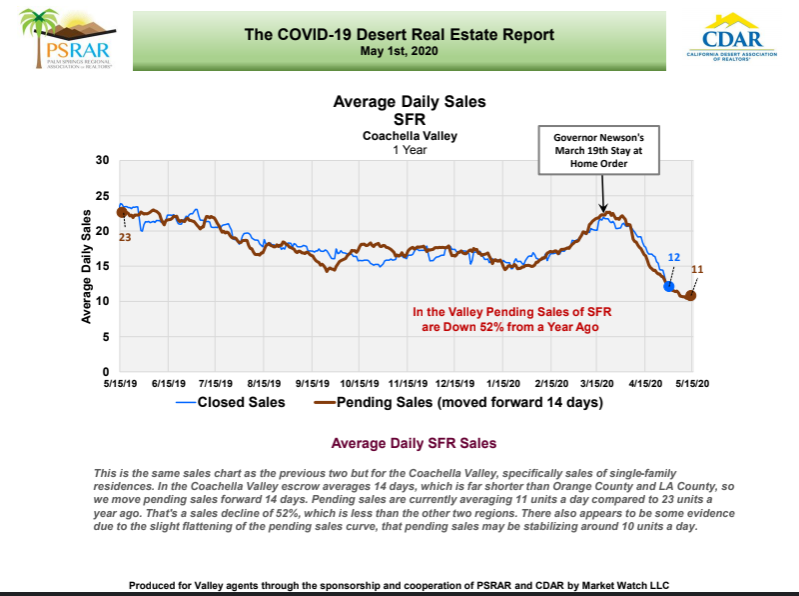 With interest rates hitting hitoric lows, buyers are still hunting for deals. A recession may bring motivated sellers out of the wood work. However there's been very little change on the days homes on the market are sitting prior to selling. We're seeing some price discounts, meaning the average amount a home sells for below the asking price, but so far, there hasn't been a significant change since the Stay at Home orders were issued.
Although there's definitely an uneasiness in the real estate market, there are still many buyers ready to pull the trigger. According to the National Association of Realtors, the US is on pace to record 5.2 million sales this year. As luxury Los Angeles real estate agent, Gary Gold, stated, "Recessions and real estate markets do not run parallel with one another. Of the last five recessions we've had, only one of them negatively impacted real estate. And in that case [2008], the recession was caused by real estate."


If you're considering a move to the desert, or possibly a second home or investment property, we're here to help. Whether you are comfortable shopping virtually or in person, we'll safely assist you through every step of the way, abiding by California Association of Realtors and the CDC's safe property showing quidelines. Contact us at the Paul Kaplan Group.