Why housing inventory is so low right now
Why housing inventory is so low right now
You have to understand the difference between the new and existing home sales markets
By Logan Mohtashami
Given the current housing inventory crisis in Palm Springs and the rest of the nation, it might surprise people to realize this: we built too many homes during the housing bubble years. Wait, what? But we have a housing shortage, right? Yes, but this is where my work is much different from other housing economists and why we need to think of inventory in a new, modern 21st-century mindset.

The big theme of my housing work since 2010 has been that the housing market would have its weakest recovery from 2008 to 2019 because we simply built too many homes versus the real demand curve, and monthly supply proves that. If you look at the monthly supply for new homes from 1996 to 2005, it was always lower than what we saw from 2008 to 2019. New home sales were working from the lowest levels ever, but sales kept on disappointing analysts and economists.
We had a few years where sales missed expectations in 2013, 2014, and 2015. Then in 2018, when mortgage rates got to 5%, we had a supply shock for the builders, which in essence stalled out construction for 30 months.
New home sales were much more substantial, of course, heading toward the bubble peak of 2005, so as long as sales rose, the homebuilders would build. Then we had an 82% crash in new home sales, and the weakest new home sales recovery ever after 2010..

One of my big calls in the previous expansion was that we wouldn't see housing starts begin a year with 1.5 million total housing starts until 2020-2024, when demand would warrant that many housing starts. I wrote about this topic last year: Why we can't build our way out of this hot housing market.
The new home sales market is always in competition with the existing home sales marketplace because that marketplace has a much more significant inventory with cheaper, older homes. So homebuilders can't just put their head down and overbuild. On top of all the drama we have, housing completions look terrible, so there is some risk to the builders' business model now that rates have risen.


As you can see in the chart below, the monthly supply of new homes is different than the monthly supply of existing homes. The existing home sales monthly supply is 1.7 months versus 6.3 months for the new home sales market.



So how should we look at the inventory situation? Everyone has their way of looking at inventory, so let's take a look at the different approaches.
Mike Simonsen, founder and CEO of Altos Research, does a great job looking at the single-family inventory each week, using Altos' real-time snapshot of what's going on. Inventory is seasonal, rising in the spring and summer and fading in the fall and winter. So, we want this data line to be positive year over year, not negative.
Taylor Marr, lead economist at Redfin, tweeted a chart recently showing the decline in existing total inventory for years but the rise in single family inventory for the new home sales marketplace.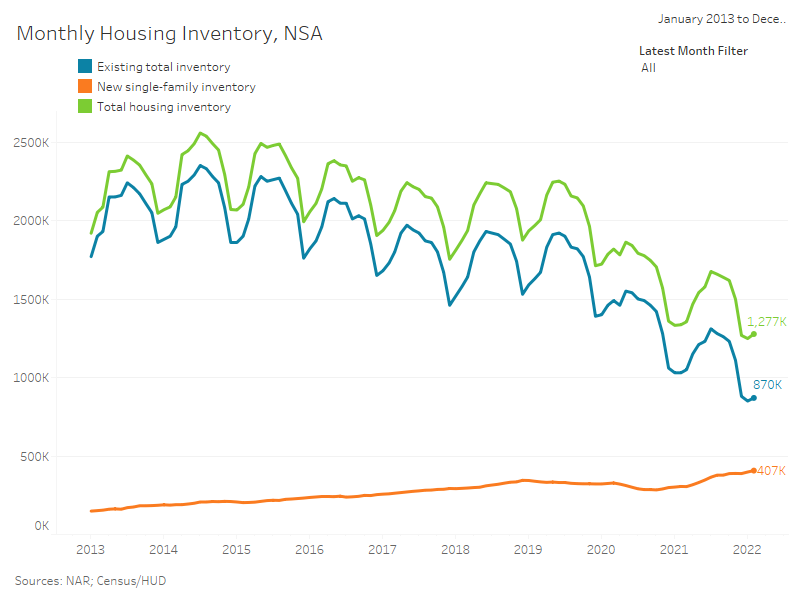 As you can see above, total new home inventory has been rising for years and hasn't made a dent in the whole inventory levels of the existing home marketplace, especially post 2020.

Here is a look at Redfin's data here:

The Census Bureau chart below shows rental and homeowner vacancy rates, which paints a bleak picture. It shows there's not just a lack of inventory of homes for sale, but also how the rental market is feeling the heat.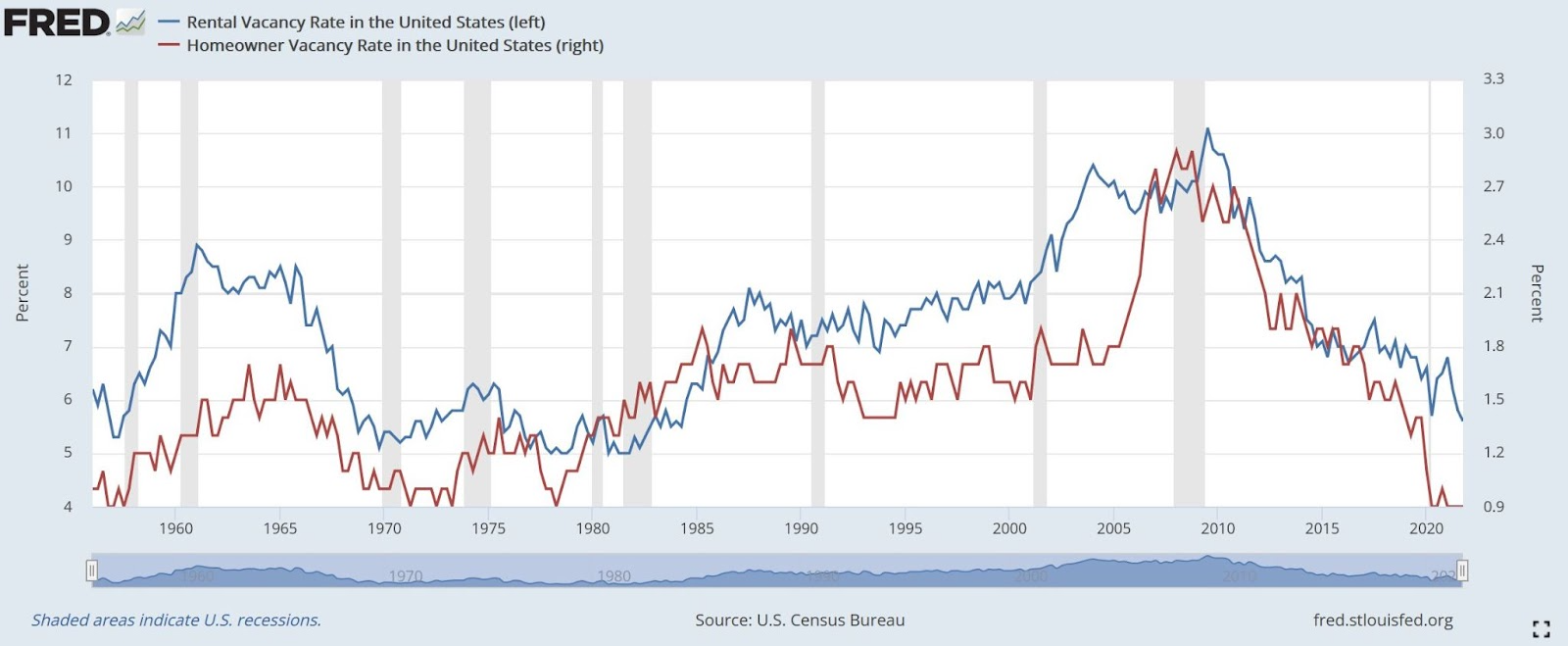 The National Association of Realtors provides a monthly snapshot of inventory with its existing home sales report. I use this data line to give people a realistic take on the landscape of housing inventory with the existing home sales marketplace. Inventory from 2010 to 2019 was high enough that we didn't see major bidding wars. However, inventory has broken down to such low levels that unhealthy bidding wars are more common since 2020.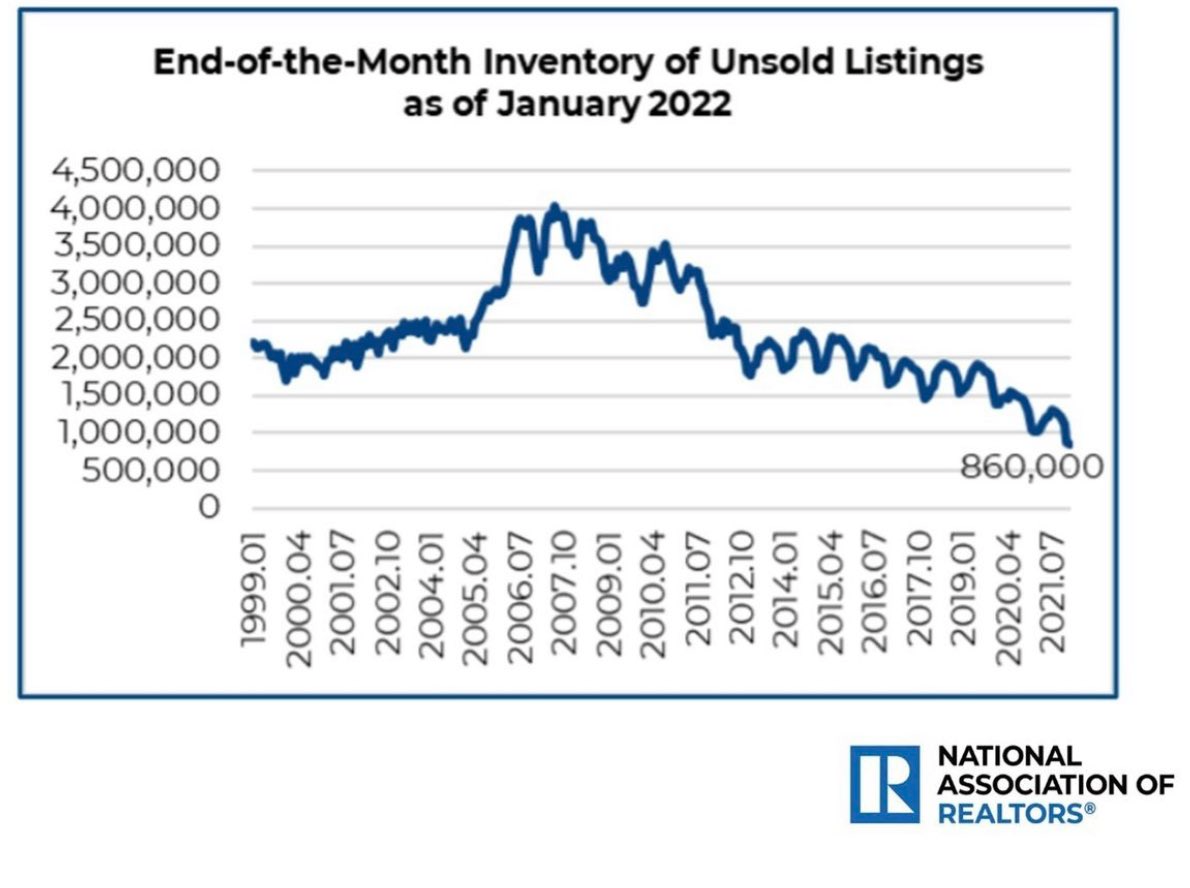 Inventory is very seasonal and we are about to get the spring and summer increases in inventory we see every year. We want the total inventory to rise and the total inventory data to be positive year over year. We want to get back to a range of 1.52 – 1.93 million homes, which would mean the madness in the housing market would be over.
The chart below has the most recent inventory data from the last existing home sales report, which shows homes grew from 860,000 to 870,000 but was down year over year. After this report, I downgraded the housing market from unhealthy to savagely unhealthy as inventory showed negative year-over-year data.

Once total inventory can get back into the range of 1.52 million to 1.93 million, I can take off the unhealthy housing market label. I hope higher rates do their thing regarding cooling down price growth and creating more days on the market. Yes, I know home sellers will pull back with higher rates, but you can see the issue with the existing home sales marketplace that doesn't exist with the new home sales market.
Right now, an American homeowner with a sub 3.25% mortgage rate has the best hedge against inflation, and they are looking great. In contrast, the new home sales supply inventory channels don't have a homeowner who has been in their homes for 10-20 years.
Hopefully, this explains some of the different dynamics between the new home sales market and the existing home sales marketplace. Because my home-price growth model of 23% in five years accelerated so fast in just two years, I am rooting for more inventory and prices to cool down noticeably so I can get ready for the year 2025. That's an entirely different conversation altogether, but we will cross that bridge when we get there. For now, let's root for more total existing home inventory.
Subscribe for more Real Estate News at Housing Wire
Selling Your Home?
Get your home's value - our custom reports include accurate and up to date information.
Get Home Value