Palm Spring Midcentury Cocktails
Fa-la-la-la-fun! Atomic Ranch Magazine shares with us 5 midcentury cocktail recipes sure to help make your holidays festive!
WThe Manhattan, Stinger, Gimlet, Grasshopper and White Russian.
The recipes for many classic cocktails date back to Prohibition, according to The Oxford Companion to Spirits and Cocktails. Mixology made dubious bootleg spirits more palatable. Today, mixology livens up not-quite-top-shelf liquor–a great option to have when you're serving a group of holiday revelers.
To usher in the holiday season, we've rounded up five cocktails that have been popular since mid century or longer. Recipes and historical lore come from The Oxford Companion.
Some people like to use Angostura Bitters only in their Manhattans, writes Brad Thomas Parsons in Bitters. Others prefer a dash of Angostura and a dash of Orange Bitters to balance the spice with some sweet.
Manhattan Cocktail
Bartenders began to concoct this granddaddy of whiskey cocktails sometime during the 1870s in, well, Manhattan. We include this cocktail in our list because it's a standard that's never gone out of style. It's says "special occasion" without being too sickly sweet, and it was one of my grandmother's favorites.
You can serve a Manhattan cocktail in a coupe glass without ice, but some folks like their Manhattans on the rocks. We like to use one giant ice cube that doesn't dilute the drink.
Manhattan Recipe
2 oz. rye whiskey or bourbon
1 oz. Italian red vermouth
2-3 dashes of Angostura bitters
Mix together in a shaker filled with crushed ice and strain into a cocktail glass.
Garnish with a lemon twist and, if you wish, a Maraschino cherry. To make a lemon twist, peel a bit of lemon skin with a vegetable peeler. Twist it into a corkscrew to release the tasty essential oils, drag it around the rim of the glass, and float it into the cocktail.
Libation variation: Replace the rye whiskey or bourbon in the recipe with scotch and you have a Rob Roy. Just don't use top-notch scotch. Please.
Stinger Cocktail
When I was in middle school, High Society, a 1956 musical remake of The Philadelphia Story (1940) aired on public television one New Year's Eve. It's one of those movies you wish you could see for the first time again. This was Grace Kelly's last movie before she became a princess.
Musician C. K. Dexter Haven (Bing Crosby) shows up to play the Newport Jazz Festival, just in time to throw a wrench into his ex-wife's high society wedding. Drinks, hijinks, and the kinds of bad decisions that can rekindle a romance ensue. "It's a Stinger, because it removes the sting," Bing quips.
"Tracy," Bing's character tells Grace's, "You'd be a wonderful woman if you'd just let your tiara slip a little." A Stinger or two will have your tiara slipping too.
Stinger Cocktail Recipe
2 oz. cognac or brandy
¾ oz. white crème de menthe
Fill a shaker with ice, mix your spirits, and shake. Strain into a chilled coupe or over crushed ice if you're looking for a festive frappé.
Gimlet Cocktail
"A real gimlet is half gin and half Rose's Lime Juice and nothing else. It beats martinis hollow," opines one character in Raymond Chandler's noir novel The Long Goodbye (1954).
Fresh lime juice is an option if you want something a little less sweet than Rose's or other lime cordials–especially if you're going to indulge in the sugar bombs that are our next two concoctions. And we think that both gin gimlets and vodka gimlets taste just smashing.
Gimlet Cocktail Recipe
2 oz. gin
.75 lime cordial
Mix in a shaker with ice, and stain into a chilled cocktail glass. Top with 1 ounce of chilled sparkling water if you'd like something a little lighter. Garnish with a notched lime wheel.
Grasshopper Cocktail
Like many cocktails, the Grasshopper's origins are muddled. The Oxford Companion says they most like originated in the Midwest just after World War II.
Grasshopper cocktails were very popular during the 1950s, but by the 1960s, they were less so. "A drink like the Grasshopper … catches on for a while and then fades out," a New York Times article announced in 1961.
Grasshopper Cocktail Recipe
1 oz. green crème de menthe
1 oz. crème de menthe
1 oz. heavy cream
Combine in a cocktail shaker filled with crushed ice and shake vigorously until the mixture is very cold. Strain into a chilled coupe glass. Line the rim with fine white sugar or garnish with a sprig of mint if desired.
"Careful, man. There's a beverage here!" – The Dude
White Russian Cocktail
Bartenders began brewing up this cocktail's precursors around the 1930s. But the White Russian made a decisive debut when Southern Comfort Used the drink to promote its 'Coffee Southern' spinoff in 1965.
The drink became a cultural icon in the late 1990s, during an overall cocktail revival and with the movie The Big Lebowski (1998). Jeff Daniels' character, The Dude, drinks White Russians throughout the movie. Like The Dude himself, the White Russian is que será, será, joie de vivre, and unashamed slovenliness, all mixed into one glass. Imbibe and abide!
White Russian Cocktail Recipe
1 ½ oz. vodka
¾ oz. coffee liqueur such as Kahlúa
3 oz. heavy cream or half and half
Pour into a shaker filled with chipped ice. Shake, and strain into an Old-Fashioned glass.
Libation variation: Shake the vodka and coffee liqueur only in a shaker filled with chipped ice. Strain into an Old-Fashioned glass and layer the cream over the top.
Don't want to make cocktails at home? Here are some of our favorite hot spots for lively libations: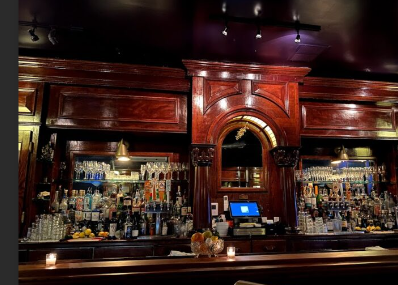 Bootlegger Tiki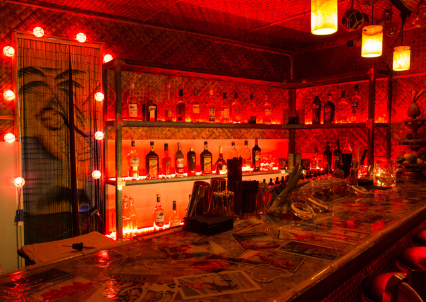 Tailor Shop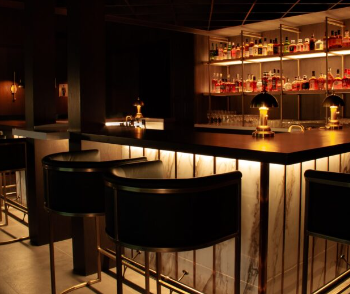 Seymour's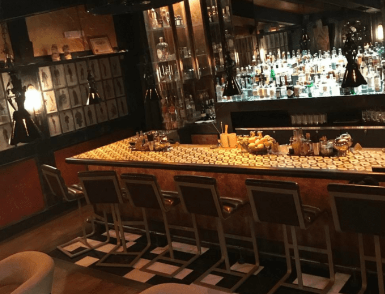 Black book

i
Selling Your Home?
Get your home's value - our custom reports include accurate and up to date information.
Get Home Value