Modernism Week Dining: Tylers
If you're visiting Palm Springs during Modernism Week, you'll need to eat between home tours, lectures, modparties and shopping! The Paul Kaplan Group is highlighting some of our favorite eating venues for you, so you'll enjoy your Palm Springs stay even more!
The historic La Plaza located in downtown Palm Springs was one of the first multi-use shopping centers in Southern California.
A Mobile gas station was located in the center median on the east side of the beautiful Spanish Colonial Revival complex facing Indian Avenue. The gas station was designed by architect Harry Williams, father of Palm Springs architects E. Stewart Williams and Roger Williams.
Overhangs were built into the buildings design to shade both the customers and the gas attendant as they were pumping gas in the hot desert sun.
This small building has been functioned throughout its history as a Mobile gas station c. 1936, Greyhound Bus Station c. 1941, the Plaza Date Shop c. 1949, A&W Root Beer, c. 1959 and now it is the home of Tyler's Burgers.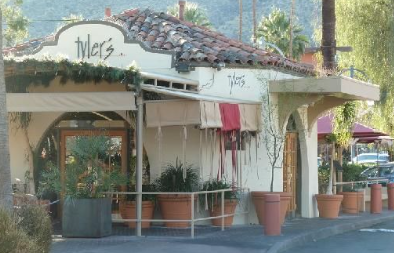 Tyler's specializes in classic American burgers with a unique twist. They serve probably the best potato salad you've ever tasted too! Here are highlights from their menu:
Tyler's Burgers in Palm Springs offers a wide selection of burgers, sandwiches, hot dogs, salads, sides, and desserts. Burgers
- The Classic: Single patty burger with lettuce, tomato, onion, pickles and your choice of cheese.
- The Turkey Burger: Single patty, lettuce, tomato, onion, pickles and your choice of cheese.
- The Bacon Cheeseburger: Single patty, bacon, lettuce, tomato, onion, pickles and your choice of cheese.
- The Veggie Burger: A veggie patty with lettuce, tomato, onion, pickles and your choice of cheese.
- Grilled Chicken Sandwich: Grilled chicken breast, lettuce, tomato, onion, pickles and your choice of cheese.
- Hot Dog: All-beef hot dog served on a toasted bun with your choice of condiments. -chili dog and kraut dogs too.
- BLT: Bacon, lettuce, tomato and mayonnaise on your choice of bread.
-Organic Tuscan Kale Salad
Sides: French fries, homemade potato salad and homemade coleslaw.
About their food:
Meat is ground fresh daily
Buns are delivered fresh daily.
Bread is all organic
All of their chicken, tuna, and egg salads are homemade in house daily.
The restaurant's atmosphere is casual, but the atmosphere is warm and inviting. The outdoor patio is a great spot to relax and enjoy the beautiful Palm Springs weather.
Since its opening, Tyler's has earned a reputation for serving some of the best burgers in the Palm Springs area. The restaurant has been featured in numerous publications, including the Los Angeles Times, Zagat, and the Desert Sun.
In 2020, Tyler's Burgers was selected as one of the top 10 Burger restaurants in the United States. Open for lunch only.
149 S. Indian Canyon Dr., Palm Springs, CA, 92262
760-325-2990 - tyler's • burgers (tylersburgers.com)
If you're enjoying your time in Palm Springs, imagine what it would be like to live here! If you're interested in exploring buying a home here in Palm Springs, please reach out to us. We'd love to chat with you about it. 760-459-1396 [email protected] www.PaulKaplanHomes.com

Would you like to use the equity in your home to buy a new home?
Get your home's value - our custom reports include accurate and up to date information.
Get Home Value