Equity Gains for Today's Homeowners in Palm Springs
Homeowners across the USA, including those in the beautiful Palm Springs area, have more home equity in their homes than ever before. The Paul Kaplan Group real estate group in Palm Springs, explains that home equity is the difference between the value of your home and the amount you still owe on your mortgage. As home prices continue to rise, a growing number of homeowners are finding themselves with a larger amount of equity in their homes.
Today's homeowners in Palm Springs and the Coachella Valley are sitting on significant equity, even as home price appreciation has eased recently. If you're a homeowner in the Palm Springs area or anywhere in the US, most likely your net worth got a boost over the past few years thanks to rising home prices. Here's what it means for you, even as the market moderates.
How Equity Has Grown in Recent Years
Because of the imbalance in Palm Springs between how many homes were for sale and the number of homebuyers in the market over the past few years, home prices appreciated substantially.
And while price appreciation has slowed this year, that doesn't mean you've lost all the equity in your home. In fact, the latest Homeowner Equity Insights report from CoreLogic finds the average homeowner's equity has grown by $34,300 over the past year alone.
And if you've been in your home longer than that, chances are you have even more equity than you realize.
While that's the national number, if you want to know what happened in your area, look at the map below from the Federal Housing Finance Agency (FHFA). It shows on average how much home prices have risen over the past five years, which has been a major driver behind equity growth.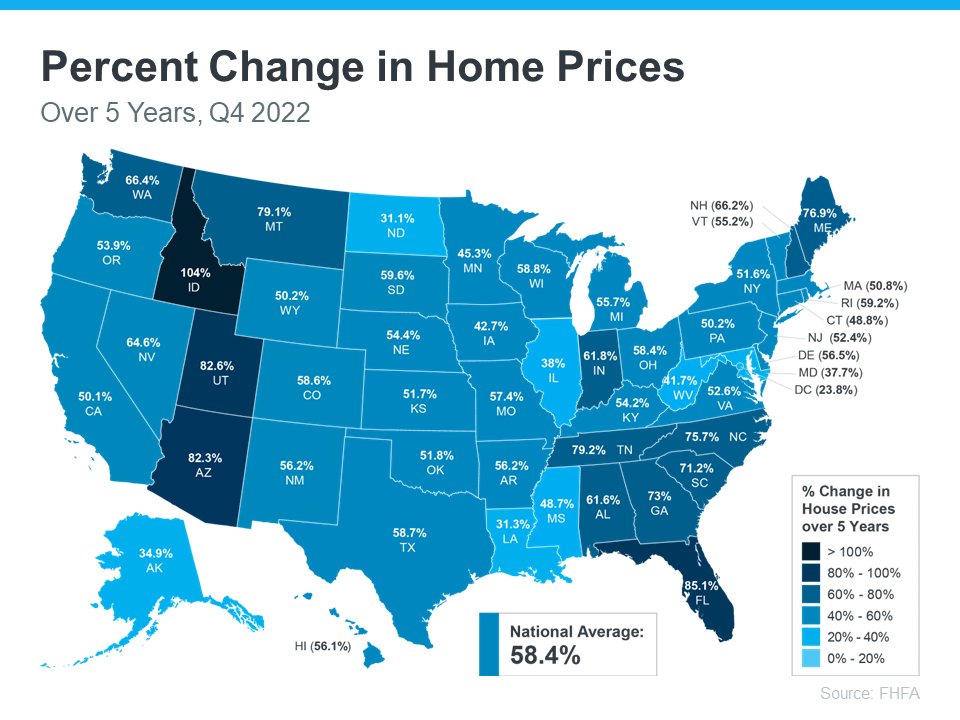 Why This Is So Important Right Now
While equity helps increase your overall net worth, it can also help you achieve other goals, like buying your next home. When you sell your current house, the equity you've built up comes back to you in the sale, and it may be just what you need to cover a large portion – if not all – of the down payment on your next home.
So, if you've been holding off on selling, it may be time to find out how much equity you have and how it can help fuel your next move. We at the Paul Kaplan Group, would be happy to give you a free estimate of how much equity you might have in your current Palm Springs home.
Bottom Line
We firmly believe that homeownership is a long game, and if you're planning to make a move, the equity you've gained over time can make a big impact. To find out just how much equity you have in your current home and how you can use it to fuel your next purchase, let's connect. The Paul Kaplan Group Call/Tex 760-285-8559 or email us at [email protected].
How much equity is still in your Home?
Get your home's value - our custom reports include accurate and up to date information.
Get Home Value