Does Palm Springs allow short term rentals?
The Palm Springs Vacation Rental Ordinance was created to protect the health, safety, and welfare of the citizens of Palm Springs. It was designed to preserve the quality of life and the residential character of quiet neighborhoods. The ordinance regulates the use of homes and apartments for short-term rentals and requires owners to register their rental and obtain an operating license. The rental also must meet certain standards and follow certain rules, such as limiting the number of occupants and cars, providing basic amenities and services, and providing off-street parking.
The Vacation Rental Ordinance (VRO) ensures that private, short-term vacation rentals are operated in a safe and responsible manner. The ordinance regulates vacation rental size, maximum occupancy, minimum rental periods, zoning, parking requirements, and other applicable regulations. The VRO also requires vacation rental operators to obtain a valid business license, comply with all applicable health and safety laws, and pay a fee based on the number of bedrooms in the unit. The ordinance also establishes a 24-hour contact number for vacation rental operators, as well as specific requirements for advertising and collecting security deposits.
There are a number of restrictions regarding renting a home for short term rentals. Many were put in place to protect neighbors living near a short-term rental. Here's a list of them:
1. Homeowners must obtain a valid vacation rental permit from the City of Palm Springs prior to renting the property.
2. Vacation rental occupancy is limited to two adults per bedroom plus two additional occupants, or a maximum of 10 adults and four children.
3. Vacation rental occupancy is prohibited between the hours of 10PM and 8AM.
4. Vacation rental guests may only park on the property or in a public lot that is close by and has been approved by the city.
5. Vacation rental properties must be in compliance with all local fire and safety codes.
6. Vacation rental properties must have a 24-hour contact available to guests.
7. Vacation rental properties must provide adequate trash collection.
8. Vacation rental guests must adhere to a quiet time after 10PM.
9. Vacation rental owners must provide an itinerary of activities, places of interest, and area attractions within the vicinity of the Palm Springs area.
10. Vacation rental properties must be in compliance with all local zoning regulations.
Recently, Ordinance 2075 introduced and established Vacation Rental Certificate caps of 20% based on Organized Neighborhood total residential dwelling units. For information relating to Vacation Rental neighborhood percentage caps, which includes a Vacation Rental table, see below. This table is subject to change, so always check with the City of Palm Springs for the most up-to-date Vacation Rental Table. The highlighted neighborhoods are at the 20% capacity and currently no longer allowing additional rentals.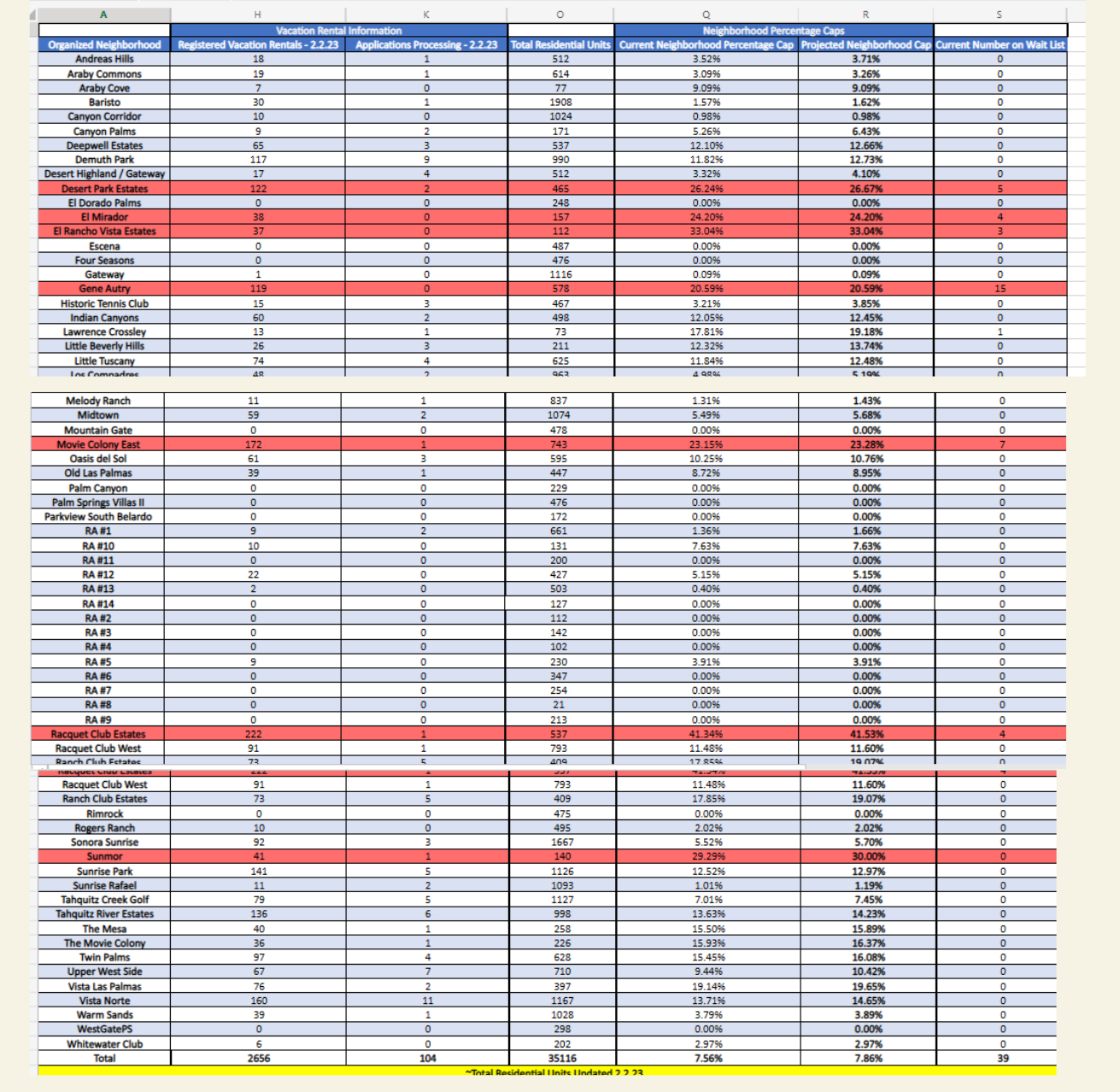 :
The ordinance is subject to changes. The Paul Kaplan Group does not guaranty the accuracy of the information provided above. We recommend anyone considering buying a home for the use as a short-term rental, contact the City of Palm Springs to review the current ordinance requirements, to ensure the rentability of the property. Visit: Vacation Rentals | City of Palm Springs (palmspringsca.gov)
Benefits of owning a vacation home
There are numerous benefits to consider when buying a vacation rental home.
1. Generate Rental Income: Renting out your vacation rental home in Palm Springs is a great way to generate passive income.
2. Take Advantage of Tax Benefits: When you own a vacation rental home in Palm Springs, you can take advantage of several tax deductions such as mortgage interest, property taxes, and more.
3. Enjoy Palm Springs: One of the most obvious benefits of owning a vacation rental home in Palm Springs is that you get to enjoy all the benefits of living in this beautiful area. You can experience the city's desert-like atmosphere and its many attractions, such as its hiking trails, golf courses, and more.
4. Increase Property Value: When you own a vacation rental home in Palm Springs, you have the potential to increase the value of your property over time.
5. Leverage Your Investment: Vacation rental homes are a great way to leverage your investment. You can buy the home with a loan and then rent it out to visitors, which can help you pay down the loan faster.
The Paul Kaplan Group specializes in vacation rental real estate. We work with investors, first-time home buyers, and out of town buyers to find the perfect vacation rental property. From golf condos to single family homes, we'll help you find the perfect property that will provide you with a great return on your investment.
Our team of experienced real estate agents can guide you through the entire process from start to finish. We will help you understand the Palm Springs market and find the best properties to purchase. We'll provide you with information about the neighborhood, comparable properties, and current market trends. We can also provide you with financing options, including conventional, VA, and FHA loans.
Our goal is to make the process of buying a vacation rental property as easy and stress-free as possible. We understand that purchasing a home is a big decision and we will be with you every step of the way. We strive to provide our clients with the highest level of service and satisfaction. Contact us today to learn more about how we can help you find the perfect Palm Springs vacation rental property. 760-459-1396 www.PaulKaplanGroup.com
Selling Your Home?
Get your home's value - our custom reports include accurate and up to date information.
Get Home Value