Where to cocktail in Palm Springs
Where to grab a cocktail in Palm Springs
Posted by Paul Kaplan on Feb. 16, 2022
Los Angeles Eater blog just published a quide where to grab a cocktail during Palm Springs' Coachella- Although you don't have to go to Coachella to enjoy your favority libations, here are a few of our favorite watering holes from the list.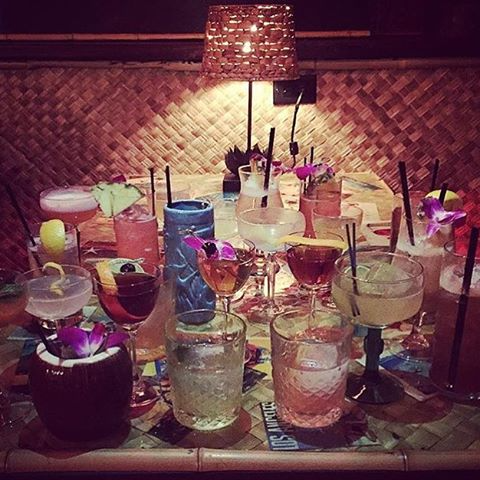 Bootlegger Tiki, Palm Springs
"Whether you're coming for Coachella or Modernism Week, the good news is that you'll never be far from a decent cocktail wherever you are in the valley. Here's a helpful roundup of bars, lounges, and live music venues intent on keeping your thirst quenched in and around Palm Springs. And if you're looking for restaurants too, head over here."
Tonga Hut
Upstairs overlooking Palm Canyon- a great balcony to observe the Palm Springs lifestyle walking by below. "Despite the fact that this outpost of the North Hollywood original is relatively new, it still manages to feel pretty authentic, unpolished and unpretentious in a world where tiki bars are turning trendy. There's real-deal Polynesian art and wood carvings, a kitschy faux fireplace, framed menus from tiki bars of yesteryear, a secret back room you enter through a pay phone, and plenty of other stuff that'll make you want to stroll the space. Look for tiki-themed DJs, the occasional live band (LA's loungey Martini Kings just played here) and, of course, plenty of rum-based drinks. The TIki-tastic is served out of a coconut, while a couple of multi-straw "bowl" drinks can serve up to four at once. Tiki enthusiasts tend to find their way here so don't be surprised if the couple sitting next to you looks like they're out of an old Elvis movie."
254 N Palm Canyon Dr, Palm Springs, CA 92262
Dead or Alive
Shhhh- we love this place and hate to see it over run...but we'll include it on the list because we love the owners and how cool it is. But admittedly, we kinda hope you never find this. "It's easy to miss this sign-less new bar wedged between a Mexican restaurant and a liquor store on the south end of town, but once you find it, you'll be rewarded with one of the most interesting beer and wine lists in town." Owner Christine Soto curates the vino selection, which changes weekly and highlights smaller, lesser-known producers with a bend toward natural wines. They're responsible for creating the super-cool glazed ceramic beer mugs made to look like crushed aluminum cans and the uplit, descending bar top that was fabricated in LA. And if you could swear that orb on the wall is changing colors, you're right — it slowly sets for the nine hours the dimly lit bar is open each night.
150 E Palm Canyon Dr, Palm Springs, CA 92264
Bootlegger Tiki
Dark, private, mysterious, and delicious! "This tiny tiki bar opened in the same space as the legendary 1950s hot spot Don the Beachcomber and has gotten into the retro Polynesian spirit with its bamboo ceiling, velvet paintings of topless island gals, and blowfish light fixtures, but its best known for its standout hand-crafted drinks served up in super fun glassware ... and the hip crowd who sips them nightly. Try the Pod Thai with rum, Thai basil, and a housemade cardamom-lemongrass syrup, or one of the best Mai Tais around. Late-night imbibers are in luck. The place not only stays open until 2.a.m it also kicks off a nightly happy hour at midnight."
Photo Credit: Jaime Kowal
140 West Via Lola, Palm Springs, CA 92262
The Tropicale
A great patio, a lively space, can't help but put you in a good mood here. "There's something about an evening on the palm-dotted patio that makes you feel like you're on vacation (and offerings like lemongrass basil mojitos and pineapple jalapeno margaritas certainly don't hurt). An inside seat at the chic Coral Seas lounge is often just as good, especially on Tuesday and Thursday nights when a live jazz trio sets up. The menu ranges from pizzas to Asian-style salmon to buttermilk fried chicken with a killer happy hour from 4 to 7 p.m. nightly and all night on Wednesdays."
330 E Amado Rd, Palm Springs, CA 92262
Some of the newest additions to the Palm Springs bar scene:
Selling Your Home?
Get your home's value - our custom reports include accurate and up to date information.
Get Home Value