Palm Springs' Red Velvet House
Palm Springs- The Red Velvet Home
Posted by Paul Kaplan on Wednesday, May 11th, 2016 at 11:56am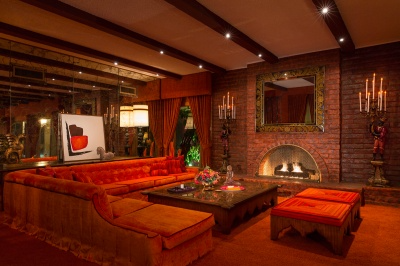 The Paul Kaplan Group has had the pleasure of listing some amazing mid-century architectural homes in Palm Springs for almost 20 years now- however the Red Velvet Palace located at 1240 S Manzanita, Palm Springs, ranks as one of the most unique properties ever represented by the group. (We've had the fortune of representing this house a number of times!)
Featured in The Desert Sun, "This house in Deepwell Estates is known as Stephan's Folly. Its namesake is Jack Stephan, who founded two of southern California's largest plumbing companies and aired iconic "Adee-doo!"TV commercials."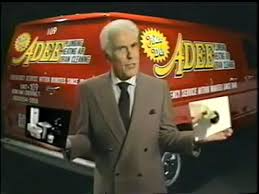 Palm Desert's Robert Lewis and Associates designed the house, and it was built in 1965. Stephan bought it in 1967 and did the interior in 1969, according to listing agent Matthew Reader of The Paul Kaplan Group.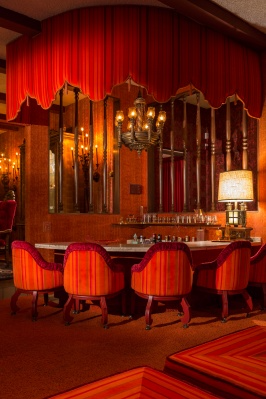 "He did the interior in 1969 after he had his first divorce, so I think it was bachelor-gone-wild," Reader said. "Jack must have been a lot of fun to be around. I think he was a little bit of a high-stakes gambler, because there was a lot of card-playing in the house, he wore a 22-carat diamond pinkie ring, there was always a new Rolls Royce and a new Cadillac in the garage."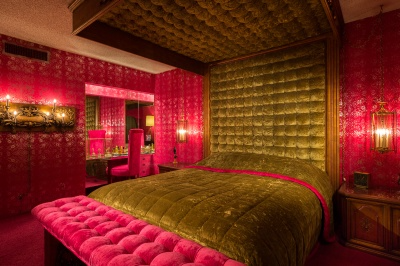 The house is an homage to red and orange velvet; it features multiple coordinated prints of flocked wallpapers with matching bedspreads and draperies throughout the home.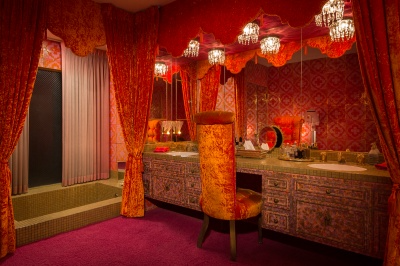 "The overwhelmed looks on peoples' faces when they walk though the door are priceless," said Paul Kaplan, owner of The Paul Kaplan Group. "One client stated after touring the house, 'Now I know what it would be like if I was living in a beating heart." Others have fallen in love with the space and appreciate the attention to detail and are grateful for the experience of walking through such a well preserved time capsule, Kaplan remarked. Others have taken notice as well. In fact, the house claimed the Palm Springs Modernism Committee's Residential Preservation Award in 2015.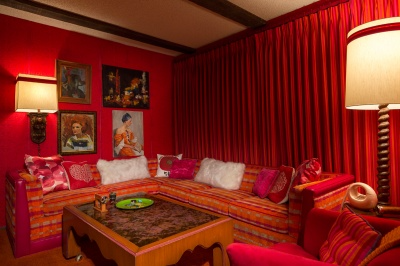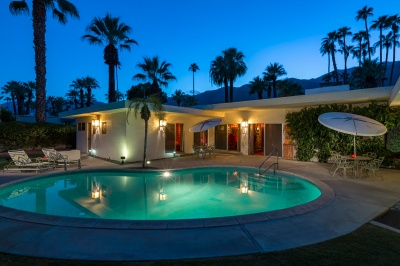 Previously listed by Brad Hudson and Mathew Reader of The Paul Kaplan Group, the listing information stated:
1240 S MANZANITA AVE
Palm Springs, CA 92264
3 Beds, 5 Bath, 3250 SqFt, 10890Lot Size
This grand 3,250 square foot home is a showcase of Palm Springs style. This exceptional mid-century property was designed by architect Robert Lewis and constructed in 1965, and it is located in Deepwell Estates, one of the most desirable neighborhoods in South Palm Springs. This impressive home was made for entertaining, and it is rich in local history. Deepwell had many celebrity residents, and Loretta Young, Julie London, Jack Webb, Eva Gabor, Liberace, and Elizabeth Taylor all lived on Manzanita at one time. The current incredible interior was designed in 1969, and every surface has been meticulously maintained and preserved. The home was the 2015 recipient of the PS ModCom's prestigious Residential Preservation Award. This special home is centered around a kidney-shaped pool, and it features a sunken living room, curved wet bar, three bedrooms, den (or 4th bedroom), five bathrooms, pool cabana, and oversized garage.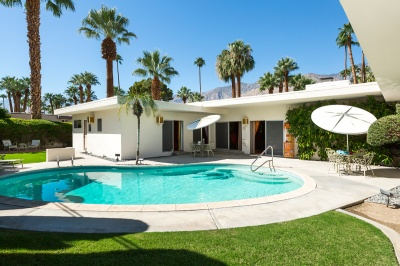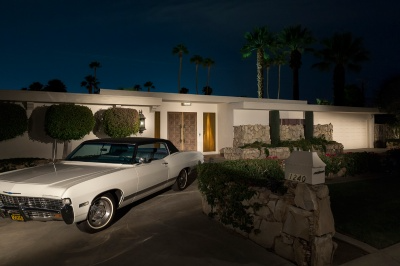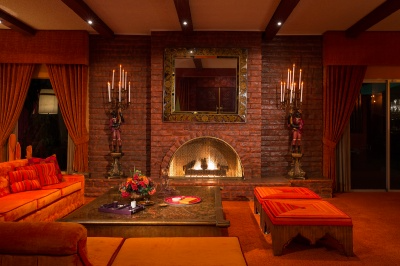 Read more here in The Desert Sun
Selling Your Home?
Get your home's value - our custom reports include accurate and up to date information.
Get Home Value