Palm Springs Modernism Week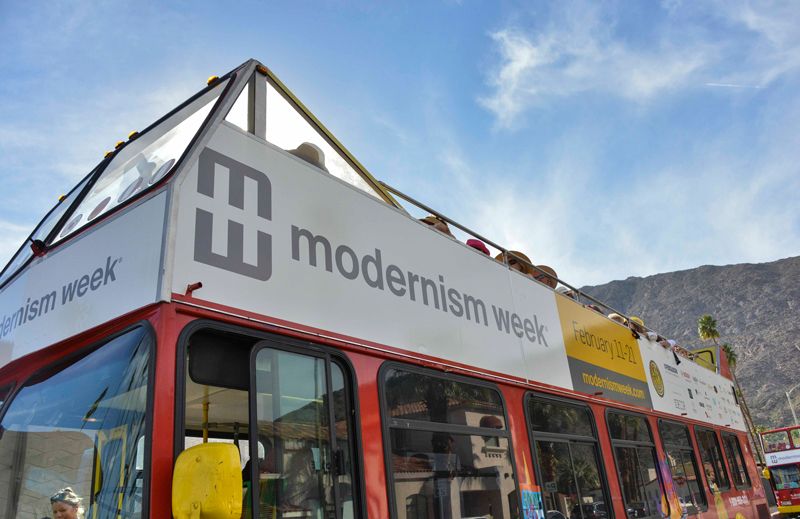 Palm Springs Modernism Week has grown to include hundreds of events drawing more than 70,000 attendees to the annual event held in February each year. The Fall Preview Modernism Week held in October, is a precursor to the larger celebration in February. Tickets are available here.
Here's an example of highlighted events and tours from past Modernism Week schedules.
1. Disney's Midcentury Modern at Smoke Tree Ranch
Walt Disney had a major influence in the popular culture of what, at the time, was considered "modern." Along with advocating for modern architecture and industrial design during the 1950s and '60s, he also celebrated new technologies and innovative methods of transportation.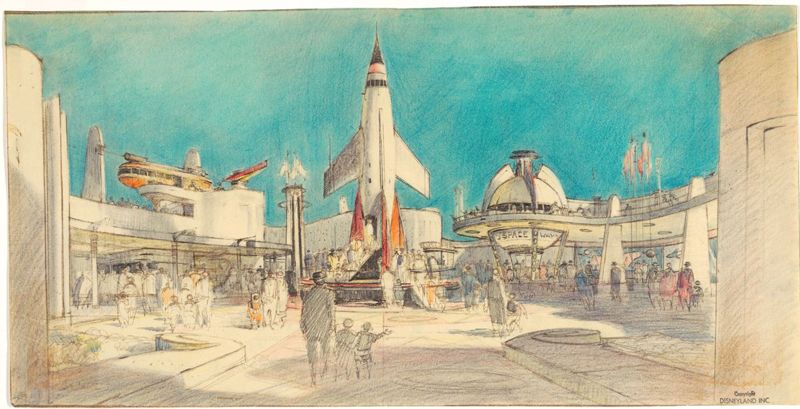 Theme park designer Bill Butler hosts a discussion about the influences, artistry and experiences inspired by midcentury modern design in dozens of Disney creations worldwide. Panelists include architectural and cultural historian Alan Hess, author of 19 books on mid-20th century architecture and urbanism, along with Bill Cotter, an author and historian who specializes in the 1964 New York World's Fair and Disney television and has contributed to numerous books, magazine articles and documentaries.
This experience will take place in Walt Disney Hall at the legendary Smoke Tree Ranch. This is a rare chance to personally experience the beauty and solitude of this very private enclave. Walt was a "colonist," the moniker used by Smoke Tree residents. (Look closely at the large bronze statue in Disneyland of Walt holding Micky's hand and you'll see he's wearing a Smoke Tree Ranch monogramed tie!). As a gift to his fellow colonists, Walt funded the Walt Disney Hall, which sits adjacent to the beautiful pool and the Ranch House, the very center of Smoke Tree Ranch life.
Arrive to a beautiful pool setting and enjoy a full bar and delicious hors d'oeuvres created by the Ranch chefs. As twilight falls, guests will be ushered into Disney Hall for the presentation.
2. Restoring or Renovating your Midcentury Modern Home…Problems SOLVED!
Atomic Ranch editor Sarah Jane Stone will lead a panel of experts in a seminar on how to respectfully restore or renovate your midcentury modern marvel. Seminar experts will include an architect, a design/build pro, a realtor and an interior designer, who will share their expertise about the common problems midcentury modern homeowners face when purchasing a period home and embarking on home improvements.
Seminar topics will include: common problems such as flat roofs, plumbing, electrical, insulation; red flags to watch out for when hunting for your midcentury modern home (dry wall over wood paneling, foundation cracks and when to restore vs. renovate); ideas for sourcing midcentury-inspired building and design products such as tile, flooring, wallpaper, fabrics, furniture, etc.
Tour two renovated homes following the seminar, where homeowners, contractors and other experts will be on hand to discuss the renovation experience and answer questions.
3. Palm Springs Door Tour
Come explore the colorful and unique doors of the Indian Canyons neighborhood during the Palm Springs Door Tour, presented Dunn-Edwards Paints and curated by Palm Springs Style.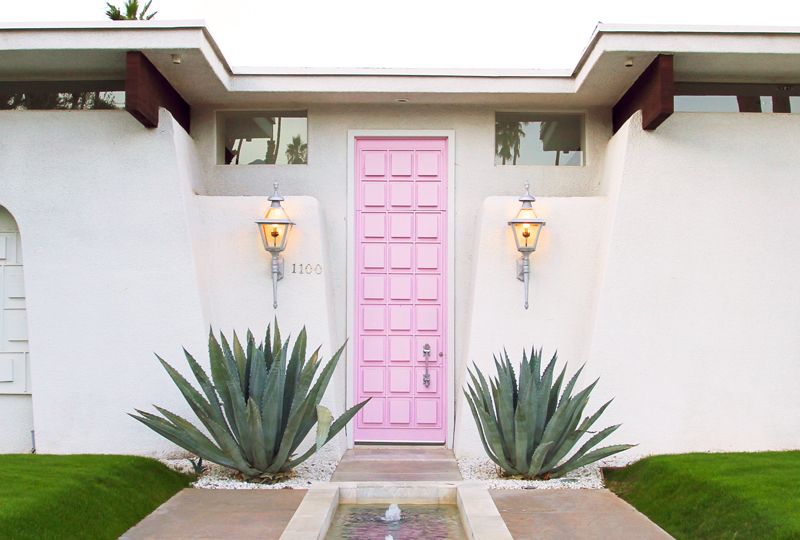 This self-guided bike tour features docents at each stop to share information about the homes' architecture and history. Bring your own bike, or rental bikes will be available for pickup at the event check-in. Those unable to bike may participate in the tour by car.
Snap photos of the doors along that way and post to Instagram for a chance to win a Palm Springs getaway and other fun surprises. After the Door Tour, head back to the Saguaro where you will be treated to a colorful cocktail (or mocktail) on the poolside lawn.
4. Palm Springs Walk of Stars Dedication for John Lautner
Join Modernism Week in a special dedication ceremony on the Palm Springs Walk of Stars for acclaimed modernist architect John Lautner, FAIA. Enjoy a unique opportunity to celebrate one of the most important architects in Southern California and recognize his legendary contributions to midcentury modern architecture in Palm Springs. Special guests and friends of Mr. Lautner will speak about his important role in desert modern design and the legacy of his iconic structures, including the Bob Hope Estate, the Arthur Elrod House and Hotel Lautner, originally named the Desert Hot Springs Motel.
The ceremony is open to the public and will take place along Palm Canyon Drive in front of the Palm Springs Art Museum Architecture and Design Center, Edwards Harris Pavilion. Limited seating is available for this outdoor event. Light refreshments will be served immediately following the dedication.
5. Beyond "Poolside Gossip" with The High Life: Slim Aarons
The iconic image of Slim Aaron's "Poolside Gossip" photograph comes to life once again with an onstage conversation between Nelda Linsk and Gary Johns, followed by a screening of the film The High Life: Slim Aarons, presented by executive director Susan Hootstien.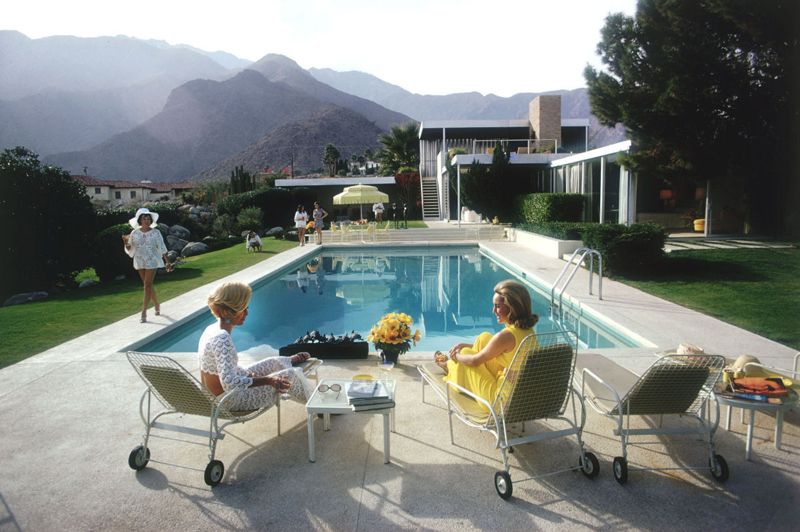 Nelda Linsk was a longtime friend of Slim Aarons and owner of the Richard Neutra-designed Kaufmann House. Nelda hosted the impromptu party where, along with friends Helen Dzo Dzo (Kaptur) and Lita Baron, she would become immortalized in the world-recognized "Poolside Gossip" photo. Following a memorable event at Modernism Week 2015, Gary Johns will again moderate a discussion, highlighting Nelda's longtime friendship with Slim and the day that "Poolside Gossip" was photographed at the Kaufmann House.
A screening of the newly released film, The High Life: Slim Aarons, will be follow by an audience Q&A. Wrap up an afternoon of Slim Aarons with a cocktail reception at a glamorous 1957 post and beam estate, the former home of socialite philanthropist Jeanette Edris Rockefeller, with recently updated interiors by Grace Home Furnishings.
Contact us at The Paul Kaplan Group direct for advice and questions on Mid-Century and modern real estate, or even if you have questions on the best events during Palm Springs Modernism Week too! Tour open houses for FREE- CLICK HERE for the current lists of houses presented by The Paul Kaplan Group- check back often, as the list is updated on Fridays.