Modernism Yard Sale founded by The Paul Kaplan Group
PALM SPRINGS MODERNISM YARD SALE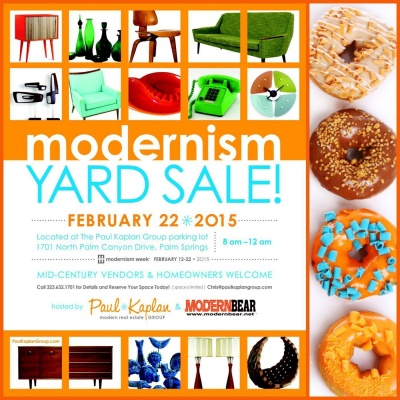 Looking for a fun and relaxing way to finish off the activities of Palm Springs' Modernism Week? If so, come browse through a treasure trove of vintage furniture, accessories and objets d'art at the Annual Modernism Yard Sale each year.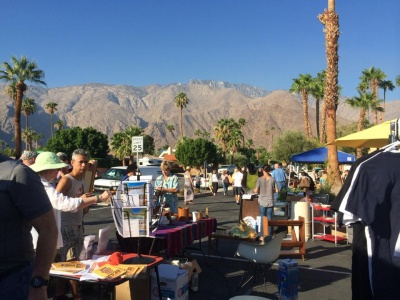 Originally created by The Paul Kaplan Group, which specializes in Mid-Century and Modern real estate in Palm Springs, the event first started as an opportunity for our mid-century collector clients to sell their wares. Over the years it has turned into one of the hottest FREE events during Modernism, and a fun social hub to to mingle with fellow Mid-Century afficionados. Each year the sale attracts over 1000 visitors to peruse the goods featured at each year's sale, which has become one of the Modernism Week's most popular must-attend affairs.

The sale's vendors typically include an eclectic mix of mid-century modern designers, collectors and retailers, both from Palm Springs and from out of the area. Some of the items you can expect to come across will be one-of-a-kind chairs, period rugs, paintings, lamps, found objects and vintage clothing. You'll see people walking away with arms full of goodies and smiles on their faces. The visitors couldn't believe the amazing selection and reasonable prices.
The Paul Kaplan Group originally started the tradition of our agents handing out free donuts at the sale, while they lasted! We went through close to 100 dozen donuts, giving people the sugar rush and energy to shop! This friendly gathering became more than just a retail experience, it evolved as a social venue for us to connect with past clients and friends, and to celebrate everything Modernism!
Although the sale has grown since it was taken over by the Modernism Week committee and perhaps not as intimate as it used to be, we will foundly remember the many years of hosting this grass roots event, and establishing a mainstay of Modernism Week activities.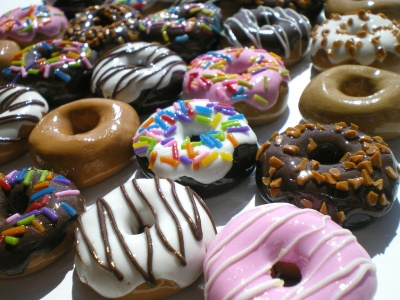 The Paul Kaplan Real Estate Group specializes in Palm Springs mid-century modern real estate properties, vacation homes, and investment properties. For a complete list of available listings, visit PaulKaplanGroup.com or call 760-459-1396.
Selling Your Home?
Get your home's value - our custom reports include accurate and up to date information.
Get Home Value