Beyond 'Poolside Gossip' with Nelda Linsk and the Paul Kaplan Group's Gary Johns, plus other great Modernism events!
Modernism festivities kicks off in Palm Springs today, with 11 days of great activities and events ahead, including architectural tours, lectures and film screenings, parties, and the weekend-long Modernism Show & Sale. The Paul Kaplan Group is excited to be involved in a number events, and we hope that you can join us!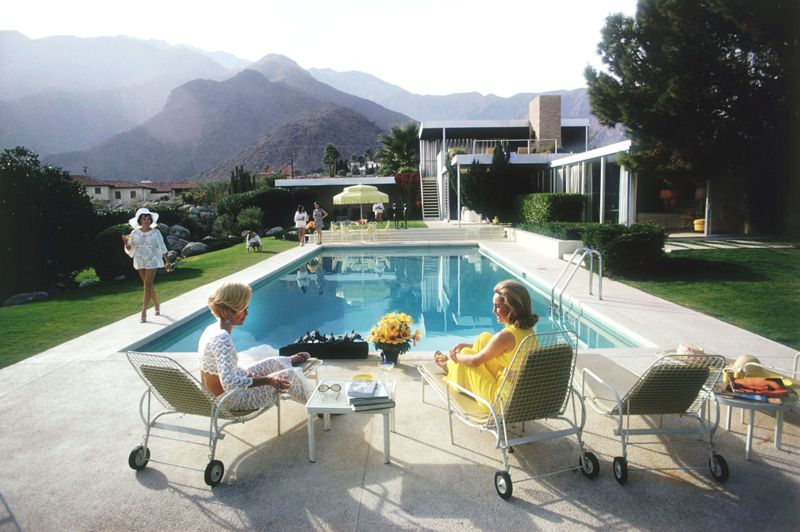 Beyond 'Poolside Gossip' - An onstage conversation between Nelda Linsk and Gary Johns, and screening of the film Slim Aarons, The High Life (February 23)
The iconic image of Slim Aarons' "Poolside Gossip" photograph comes to life once again with an onstage conversation between Nelda Linsk and the Paul Kaplan Group's own Gary Johns, followed by the North American Premier of the film Slim Aarons, The High Life. Nelda Linsk was a longtime friend of Silm Aarons and owner of the Richard Neutra designed Kaufmann House. Nelda hosted the impromptu party where along with friends, Helen Dzo Dzo (Kaptur) and Lita Baron, she would become immortalized in the world-famous photo. Following a memorable event at Modernism Week 2015, Gary Johns will again moderate a discussion highlighting Nelda's longtime friendship with Slim and the day that Poolside Gossip was photographed at the Kaufmann House.
Wrap up an afternoon of Slim Aarons with a cocktail reception catered by Jake's following the talk and film, at a glamorous 1957 post and beam estate that is the former home of socialite philanthropist Jeanette Edris Rockefeller, with recently updated interiors by Grace Home Furnishings.
Modernism Show & Sale (February 17-20)
The Modernism Show & Sale at the Palm Springs Convention Center features 40+ national and international decorative and fine arts dealers, showcasing vintage furniture, lighting, decorative items, artwork, jewelry, clothing and accessories. Visit us at the Paul Kaplan Group booth!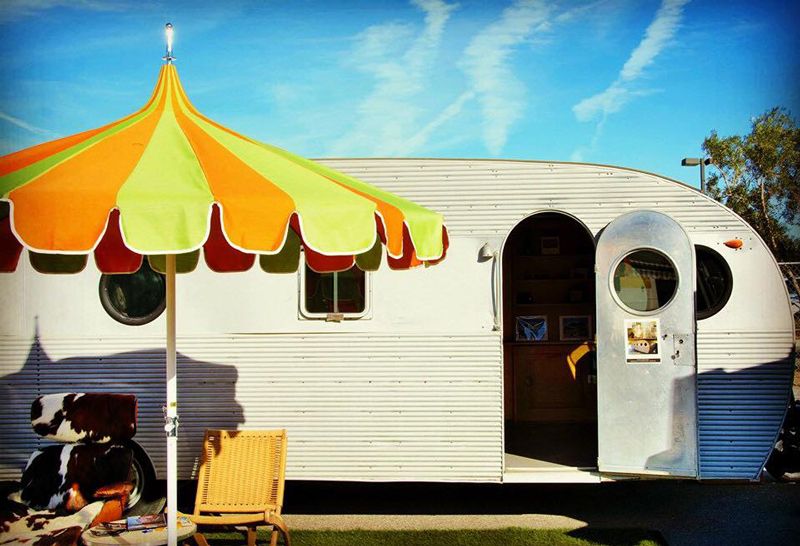 Vintage Trailer Show (February 25)
This event showcases a diverse collection of trailers, buses, motorhomes and vintage tow vehicles, and this year the Paul Kaplan Group will have its own trailer in the show! Owners will be on hand to talk about their trailers' history, restoration and travels. There will also be a fun mix of retail vendors whose products complement the vintage trailer lifestyle. Attendees will have the opportunity to vote on the People's Choice award recipient.
El Rancho Vista Neighborhood Tour (February 19)
The Paul Kaplan Group is proud to sponsor one of our favorite neighborhood tours (Paul lives here!). El Rancho Vista Estates is a midcentury neighborhood developed by Roy Fey in 1959-1960, featuring 70 homes designed by Donald Wexler and Richard Harrison, as well as another 20 ranch homes. The vast majority of homes have been maintained in their original state. Home interiors will be on display for the tour until 12 p.m., followed by a light reception at the final home until 1 p.m. Proceeds to benefit the El Rancho Vista Neighborhood Organization for neighborhood beautification projects and annual donations to local nonprofit organizations.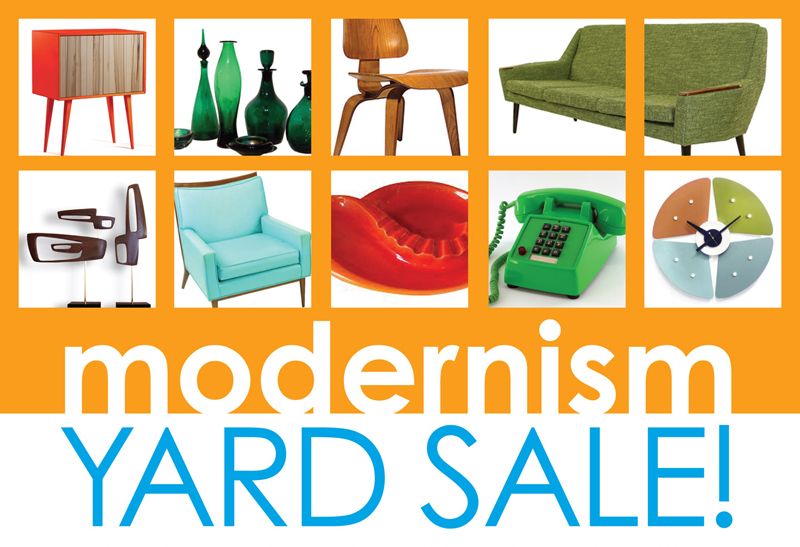 Modernism Yard Sale (February 26)
The Modernism Yard Sale tradition continues for the 7th year, this time located in the H3K parking lot (entry is free!), and the Paul Kaplan Group will be serving up free donuts while you hunt for vintage treasures at the sale.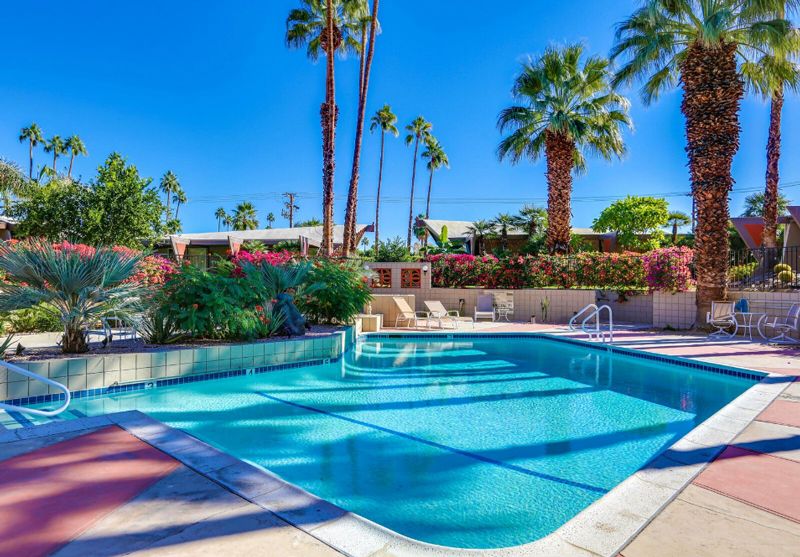 Tiki-A-Go-Go at Royal Hawaiian Estates (February 18)
Groove to the beats of the '60s at the third annual Royal Hawaiian Estates Tiki Party. This year's theme "Tiki-A-Go-Go," features Palm Springs own DJ Baz and live music from L.A.-based The Hula Girls. Wear your favorite Mod or vintage Aloha wear and be prepared for a Tiki-tastic evening of music, fun, food and drinks. Use your souvenir map, created by Royal Hawaiian Estates' resident artist SHAG, to tour the grounds and participating units of this historic property, designed by Donald Wexler and Richard Harrison.
Palm Springs Vintage Market (February 19)
The Palm Springs Vintage Market will hold a special market during Modernism, in the Camelot Theatres parking lot. The market features a diverse collection of vendors selling furniture, housewares, art, clothing, jewelry, vinyl records and more!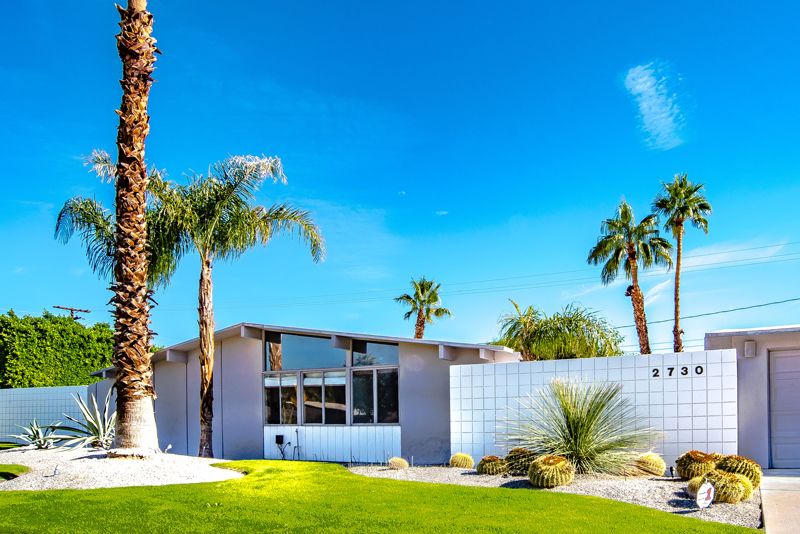 2730 N Avenida Caballeros in Racquet Club Estates
Racquet Club Estates Home Tour (February 18)
The Racquet Club Estates 9th Annual Home Tour and Reception will showcase the midcentury modern beauty of six unique Alexander homes built in the late 1950s and early 1960s, as well as a midcentury modern fire station, located within Racquet Club Estates. There will also be a collection of classic cars parked at each home and a catered reception with a celebrity guest speaker following the tour.
Tour Architectural Homes for Sale!
Tour iconic mid-century houses currently available for sale, hosted by The Paul Kaplan Group, local architectural real estate specialists. CLICK HERE for schedules and addresses.