School of Desert Modernism Architects and Builders
Palm Springs, Calif. is what many consider to be "the Mecca" of mid-20th-century modern architecture in the United States, and has become the de facto capital of the popular design movement. The city is home to mid-century modern architecture called Desert Modernism, lately also referred to as the "Palm Springs School."
There were number architects and developer/builders who were primarily responsible for Palm Springs becoming the Mid-century Modern haven it is today.
During the mid 20th century era (1940-1970), there were several notable architects and builders who basically created the Desert Modernism concepts. Today, there are still some who carry on that tradition and expand on it. The following is a brief history of some of the more noted contributors to Desert Modernism.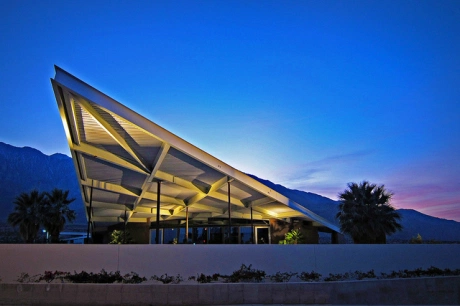 Originally designed as a gas station, the Tramway Visitor's Center is an Albert Frey masterpiece.
Albert Frey, Architect
Albert Frey was a prolific architect who established a style of modern architecture centered around Palm Springs, California that came to be known as "Desert Modernism".
At the end of World War II Palm Springs' population almost tripled, and the city experienced a building boom. Known as an escape for the Hollywood elite and a winter haven for east coast industrialists, Palm Springs emerged post-war as a resort community for a broader segment of Americans with more leisure time than any previous generation.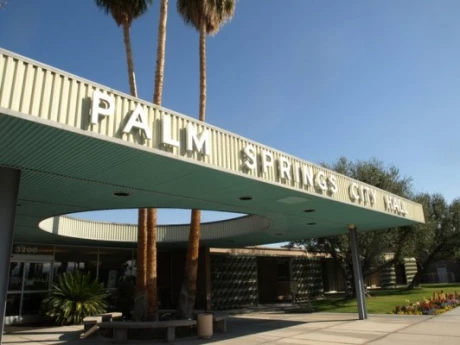 Frey and John Porter Clark were well positioned to capitalize on this, and both the city and their firm benefited from an unprecedented period of construction. Significant buildings by Frey during this period include his private residences, Frey house I and II, the Loewy House, built for industrial designer Raymond Loewy, the Palm Springs City Hall, the Cree House II, North Shore Yacht Club on the northeastern shore of the Salton Sea, the Palm Springs Aerial Tramway Valley Station and the iconic "flying wedge" canopy of the Tramway Gas Station at the foot of the entrance to the tramway on the northern edge of Palm Springs, now used as a visitor`s
Albert Frey's home until his death in 1998, the Frey II.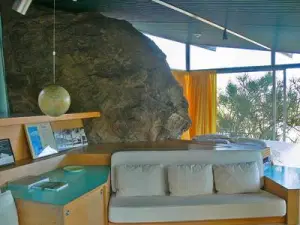 Interior of Frey's home.
Frey died in Palm Springs, California aged 95 and was buried at Welwood Murray Cemetery.
——————————————————————————–
Jon Porter Clark
John Porter Clark came to Palm Springs from Pasadena in 1932. He was sent to establish the local office of the architectural firm of Van Pelt & Lind. A few years later, Clark & Frey left Van Pelt & Lind and formed their own firm. Clark practiced his craft alone when Frey returned to NYC and upon Frey's return they resumed their partnership. Clark is credited with designing the Welwood Murray Memorial Library, the San Jacinto Hotel, the Ludington House in Rancho Mirage and many residential projects in Smoke Tree Ranch.
——————————————————————————–
William Cody, Architect
William F. Cody, FAIA, was born in 1916 in Dayton, Ohio and studied architecture at USC where, as a student, he worked for Cliff May. Following graduation in 1942, Cody apprenticed at several California firms, moving to Palm Springs in 1946.
Cody was first employed a staff architect for the Desert Inn Hotel, before setting off on his own to design the Del Marcos Hotel (1947). A subsequent project, the conversion of the 1936 Thunderbird Ranch to Thunderbird Country Club, led to design commissions for the clubhouses at Tamarisk, Eldorado, Seven Lakes and seven other Country Club developments. It is through these many projects that Cody is credited with the Country Club Sub-division concept in the West.
The Del Marcos Hotel is historically important because it was Cody™s first independent commission in Palm Springs, and launched his solo career in the desert. The 17-room modernist hotel is located at 225 West Baristo Road close to the downtown in the historic Tennis Club neighborhood. The hotel immediately became a popular destination and remains so to this day. Said to have been inspired by Frank Lloyd Wright™s Arizona architecture, the project won a creative design award for the architect from the Southern California chapter of the AIA as an example of cutting-edge resort hotel architecture. Built of native stone and redwood, surrounding a shimmering pool, architectural features include luxurious suites, an organic asymmetrical entrance doorway, and floor-to-ceiling glass. The two-story building (with a single-story shed roof section on the northeast corner) features a U-shaped plan centered on a courtyard, a design which encourages socializing among guests.
A Class 1 historic site designation of the Del Marcos Hotel was made official by a Palm Springs city council resolution on May 2, 2012. (Information provided by DelMarcosHotel.com)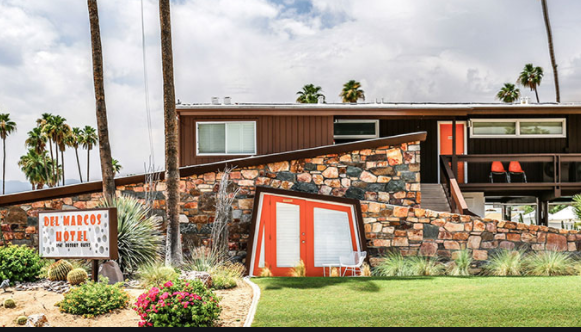 Del Marco Hotel, Downtown Palm Springs.
As one of the architects of the Spa Bath House (along with Wexler & Harrison and Phillip Koenig), and the adjacent Spa Hotel, Cody is also noted for a number of spectacular contemporary residential commissions including the Perlberg (1952), Shamel (1961) and Abernathy (1962) Residences. The L'Horizon Hotel (1952), now known as The Horizon Hotel, is a well-restored example of Cody's design. Cody's career included a wide variety of commercial and residential projects in Palm Springs and beyond, including projects in Phoenix, San Diego, Palo Alto, and Havana. Cody was inducted into the College of Fellows of the AIA in 1965.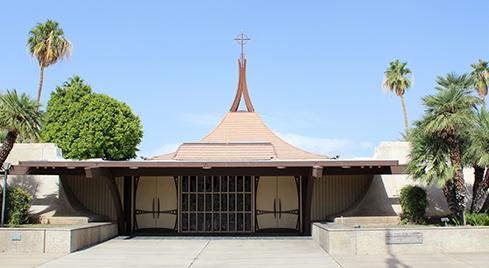 One of Cody's last projects, St. Theresa's Catholic Church on Ramon Road.
Among the last projects in which Cody is credited as the designer were St. Theresa's Catholic Church (1968) and the Palm Springs Library Center, designed 1972 and completed in 1975. Cody suffered a debilitating stroke in 1973 that ended his architectural career, although the firm continued on for several years. Cody died in 1978 leaving behind a legacy of important contributions to what is known today as Desert Modernism – his career continues to serve as an inspiration to successive generations of architects.
——————————————————————————–
David Wexler, Architect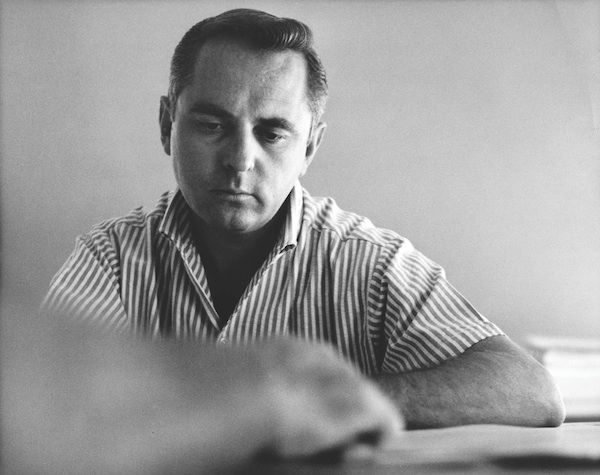 DONALD WEXLER, FAIA, was born in 1926 in South Dakota and graduated from the University of Minnesota in 1950 after serving in the Navy during World War II. Thereafter, he moved to Los Angeles where he worked for architect Richard Neutra, and subsequently moved to Palm Springs to work for William Cody on the Tamarisk Country Club. In 1952, Wexler, along with Richard Harrison, a colleague from Cody's firm, set up their own offices as Wexler & Harrison. That partnership dissolved amicably in 1961, and Wexler formed Donald A. Wexler Associates in 1963.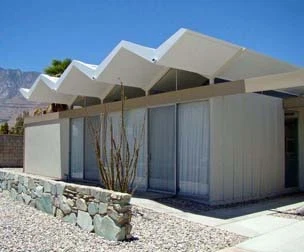 Wexler's Steel Homes
During their partnership, Wexler and Harrison designed many school buildings using new approaches to steel-framed construction. In 1960, the George Alexander of the Alexander Construction Company contracted Wexler and Harrison to design an innovative neighborhood of all-steel homes at the then northern edge of Palm Springs. Due to the rising costs of steel, the project was halted after just seven homes were built. These innovative factory-fabricated, site-assembled steel houses combined prefabricated components with standard construction methodology and are now internationally acclaimed. These seven homes have been designated Class One Historic Sites with the City of Palm Springs.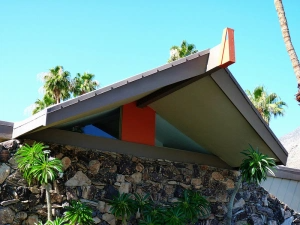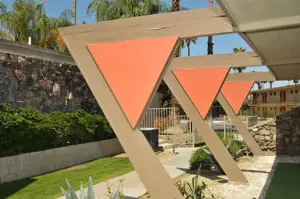 Royal Hawaiian Estates, Palm Springs
Other projects include the Spa Hotel Bath House (1958), Royal Hawaiian Estates (1960), Palm Springs Medical Clinic (1963), Canyon Country Club (1963), Dinah Shore Residence (1964), Palm Springs International Airport (1965), Desert Water Agency (1978), Bank of Palm Springs (1982), Hope Square Professional Building (Rancho Mirage, 1985) as well as many more commercial, institutional and public buildings. While Wexler chose to keep his office small and limited his practice to the desert community, Wexler produced a body of work that is not considered a crucial element of Desert Modernism. Wexler died at his home in Palm Desert on June 26, 2015 following a brief illness. He was 89
——————————————————————————–
E. Stewart Williams, Architect
E. Stewart Williams, FAIA, born in 1909, was the eldest son of Harry Williams (Architect of the historic La Plaza Shopping Center in Palm Springs). As did his father (and later his younger brother), Williams studied architecture at Cornell and went on to receive his Masters from University of Pennsylvania in 1933.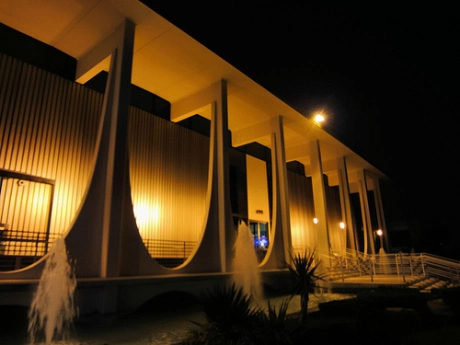 E. Stewart Williams' stunning design, now the Chase Bank, corner of S. Palm Canyon and Ramon Rd.
Among his major projects are the Oasis Office Building, Coachella Savings and Loan (I and II) (number II site is now Chase Bank at South Palm Canyon & Ramon Rd.), Crafton Hills College (in Yucaipa), Santa Fe Savings Bank and the Upper Mountain Station of the Palm Springs Aerial Tramway. In addition to the Frank Sinatra House (his first residential commission), Williams has designed numerous architecturally significant private residences throughout the Coachella Valley.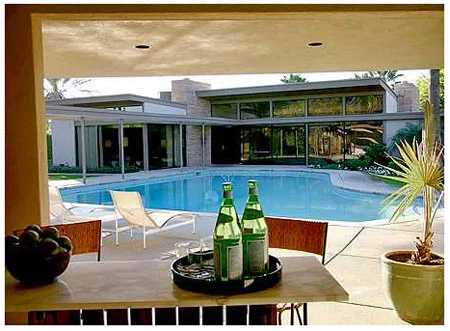 Frank Sinatra's "Twin Palms", E. Stewart Willaims first residential commission. (Note the piano-shaped pool.)

His most dramatic public building is the Palm Springs Art Museum. It's first phase was designed in 1976. His last project was a major expansion of the Desert Museum known as the "Steve Chase Addition." The addition was designed in 1990-93 and completed in 1996, when Mr. Williams was 87 years old.
——————————————————————————–
William Krisel, Architect
William Krisel (November 14, 1924 – June 5, 2017) was an American architect best known for his pioneer designs of mid-century residential and commercial architecture.[2][3] Most of his designs are for affordable homes, especially tract housing, with a modern aesthetic. Krisel, principal of the firm of Palmer & Krisel (formed with Partner Dan Palmer), was born in 1924 in Shanghai of American parents working overseas for the U.S. State Department. Krisel lived in China until age 13, when his family returned to the US, where he attended Beverly Hills High. Receiving his degree in architecture at USC, Krisel has also been a licensed landscape architect since 1954.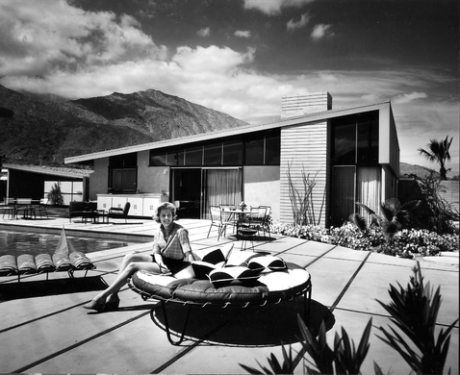 A backyard advertising photo of "Smoke Tree Valley" subdivision (now known as Twim Palms), designed by Bill Krisel was Alexander Construction Company's first development in Palm Springs.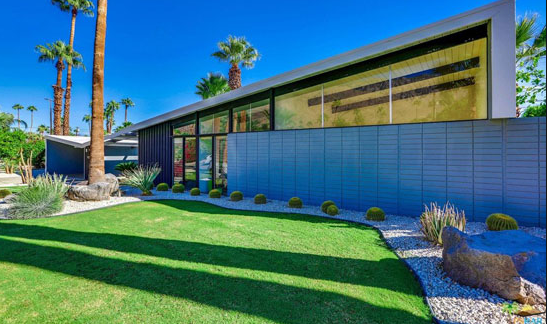 Designing more than 30,000 living units throughout Southern California, Krisel`s career spanned over 50 years. A close personal friend of developer Bob Alexander and his family, Krisel came to the Desert at the request of Alexander to design a tract of modernist houses dubbed Smoke Tree Valley (now known as Twin Palms for the pair of Palm trees that graced each of the homes). Palmer and Krisel were responsible for designing a large percentage of Alexander homes. (See below)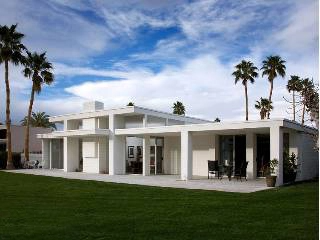 "Kings Point" is quintessential Krisel design…SPACE, FLOW, STYLE.
Other Palmer & Krisel projects include the Ocotillo Lodge, Las Palmas Estates (Vista Las Palmas), Kings Point and Canyon View Estates, Racquet Club Estates, "Valley of the Sun" in Rancho Mirage and the Sandpiper condo complex in Palm Desert (which garnered an AIA merit award for Landscape Architecture). The "House of Tomorrow," conceived as an experiment in modern living, so impressed Alexander`s wife Helene that they made it their personal residence. The house later gained fame as the honeymoon home of Elvis and Priscilla Presley.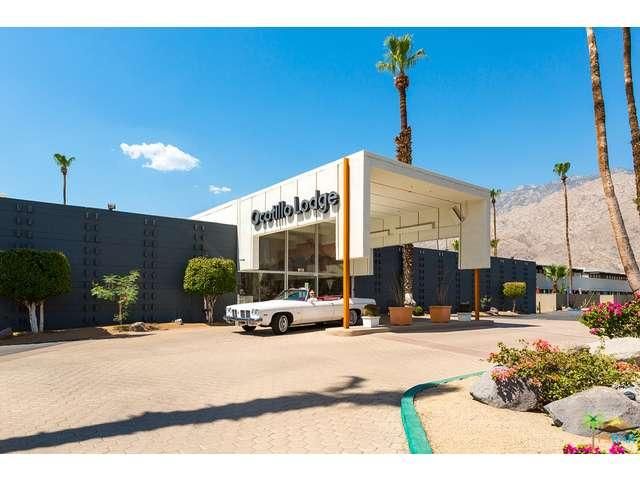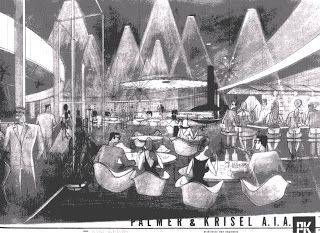 Designed by Palmer/Krisel, The Ocotillo Lodge was a hotel built by The Alexander Company to house prospective buyers of their first home development (now known as Twin Palms). The Lodge was later converted to a condominium community.
Krisel is one of the few mid-century modern architects who not only has lived to see, but also participated in the resurgence of modernism in Palm Springs. In recent years, he contributed to the restoration of many of his original designs. Krisel's archive now resides at the Getty Research Institute.
——————————————————————————–
John Lautner, Architect
John Lautner was an influential American architect whose work in Southern California combined progressive engineering with dramatic space-age flair. Born in Marquette, Michigan, Lautner studied under Frank Lloyd Wright at Taliesin West and became site supervisor on several Wright projects including Ennis House, Los Angeles. In 1938 Lautner moved to Los Angeles and created for himself a life-long career focusing on residential architecture. Two of his most recognized works are Elrod House and the Bob Hope House in Palm Springs.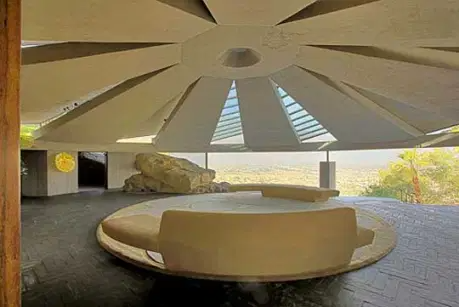 Lautner's Elrod house, built in 1968, was featured in the James Bond classic "Diamonds are Forever."
Arguably the most widely seen of Lautner`s works, the Elrod House (1968) became famous through its use as a location in the Bond film Diamonds Are Forever. Sited on a commanding hillside location (Southridge neighborhood) in Palm Springs, California, its best-known feature is the large circular `sunburst` concrete canopy which appears to float above the main living area; this area also incorporates a large natural rock outcrop at the edge of the room, creating the impression that the fabric of the building is fused with the rock. The canopy is fitted with curved glass-and-aluminium sliding doors that allow the space to be completely opened around half its circumference, opening out to a semi-circular swimming pool and a broad terrace. The prime hilltop site offers sweeping views of the surrounding desert.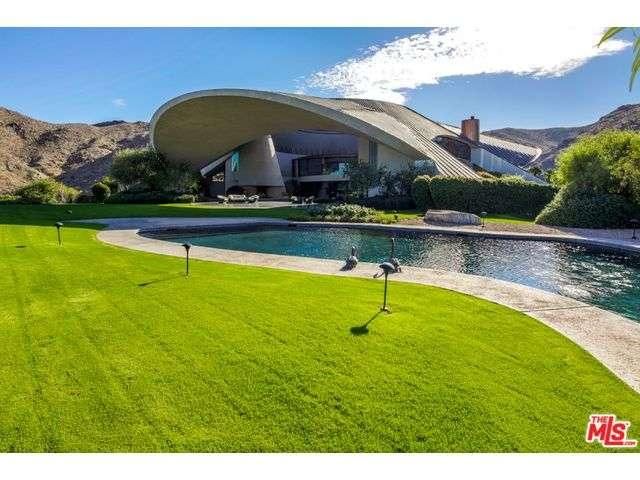 Chrysler Corp. built this uniquely designed home for Bob Hope. Bob's wife, Delores worked closely with John Lautner, making sure that every detail was as she wanted it to be.
The 17,500 sq. ft. Bob and Dolores Hope Residence (1973), situated close to the Elrod Residence in Palm Springs, features a massive undulating triangular roof, pierced by a large circular central light shaft. The Hope Residence is a house at 2466 Southridge Drive in Palm Springs, California. It is 23,600 sq ft. The house was destroyed by a fire from a welder's torch in its initial phase of construction in 1973, the cost of the fire was estimated at $500,000. Construction began four year later after legal issues regarding insurance and financial responsibility for the fire were settled.The house is noted for its large undulating triangular roof, with a large central light shaft.
Arthur Elrod, the chief interior designer for the house, died during the first phase of construction. When work began again in 1977 the original building plans as filed with the council were still valid. Dolores Hope became increasingly involved in the design of the house following its rebuild which caused Lautner to distance himself from the project. The Hopes hired a "Beverley Hills society decorator" to design the décor of the house which dismayed Lautner who had originally envisaged a modernist interior that made use of the natural light in the house's desert location. Dolores Hope had been inspired by Neutra's Sunnylands, the nearby house of Walter and Leonore Annenberg. Dolores Hope made extensive changes to the second design, with the result that Lautner eventually distanced himself from the project.
After Dolores Hope died in 2011, at age 102, the Hope house went on the market for $50 million.I was eventually purchased by venture capitalist, Ron Burkle for $13 million. Per the LA TIMES, "
"the house is being remade to reflect the architect's original vision. Lautner protégé Helena Arahuete, who worked with him for 23 years, has stripped the interiors and rebuilt the inside with natural materials. Swan faucets, wallpaper and carpet are out. Quartzite flooring, African mahogany and Brazilian granite are in — as is the shape-shifting light that transforms the house during the course of the day.
With the project now in its final stages, the house is almost ready for its relaunch."
It is one of the largest and most visually striking of Lautner`s designs.
——————————————————————————–
Richard Neutra, Architect
Richard Neutra was born in Vienna in 1892. He graduated in 1917 from the Technische Hochschule, Vienna, where he had been taught by Adolf Loos, and was influenced by Otto Wagner. In 1923 he emigrated to the U.S. where he worked on several projects with Rudolf N. Schindler before establishing his own practice.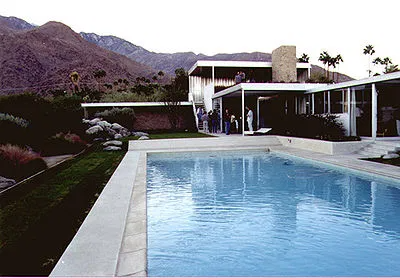 Richard Nuetra's Kaufmann House is considered the "perfect" example of the mid-century aesthetic.
Neutra created a modern regionalism for Southern California which combined a light metal frame with a stucco finish to create a light effortless appearance. "He specialized in extending architectural space into a carefully arranged landscape. The dramatic images of flat-surfaced, industrialized residential buildings contrasted against nature were popularized by the photography of Julius Shulman."
In 1946, Edgar Kaufmann hired Neutra to design a desert home for his family in Palm Springs. A decade earlier, Frank Lloyd Wright had built Fallingwater for Mr. Kaufmann. But Kaufmann, having seen Taliesin West, thought that Wright didn't understand desert design and chose Neutra instead. The home turned out so well, that when Wright saw it, he admitted to that is was beautiful (uncharacteristic of him).
——————————————————————————–
Paul Trousdale, Developer
Paul Trousdale (1915 – April 9, 1990) was an American real estate developer. He is best known for developing the Trousdale Estates in Beverly Hills, California. He built over 25,000 homes in Southern California.
There was a great need for post war housing. So in 1947, developer Paul Trousdale teamed up with Pearl McManus on the Palm Springs development known as Tahquitz River Estates. At the time it was the largest and most ambitious standardized housing development that had been attempted in Palm Springs and the first large postwar development by a major developer. Trousdale subdivided the land into 213 one hundred foot wide parcels averaging 10,000 square feet each.
In 1947, Trousdale began building in Palm Springs, peppering the neighborhood with mid-century-style homes, creating an eclectic variety that boasts Old Palm Springs charm and modernism. When the banks of the Tahquitz Wash were stabilized, Trousdale, developed homes on either side of the banks, and called them "Tahquitz River Estates."
In 1948 he added another 49 parcels to the far western end of the subdivision in a second unit. Outdoor living was promoted by the inclusion of patios with mountain and garden vistas. Each home was archiect designed with 8 models in 2-3 bedroom floor plans each with a fireplace. There was a total of 18 different exterior design elevations to personalize each home. (Information provide via The Taquitz River Estates Neighborhood Organization)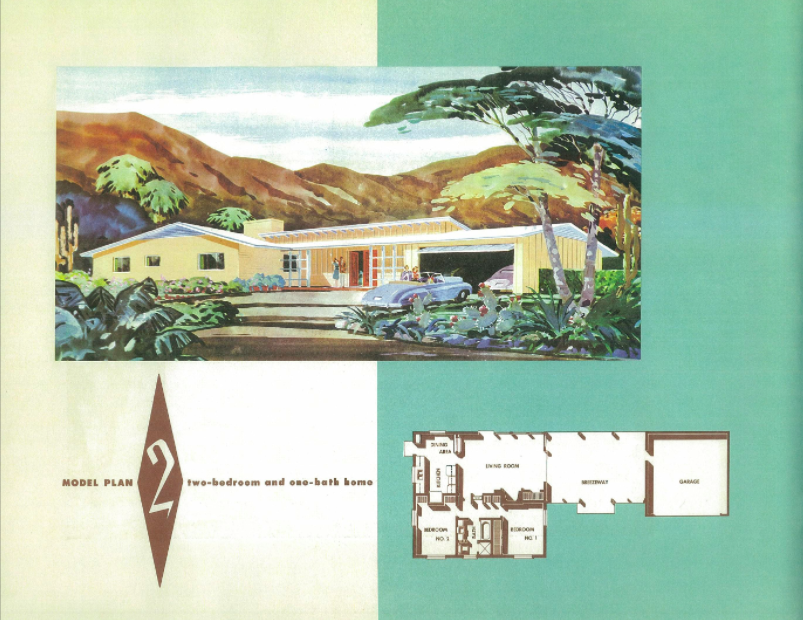 ——————————————————————————–
George and Robert (Bob) Alexander, Developer/builders
When the Alexander Construction Company, founded by George Alexander and his son Robert, arrived in Palm Springs in the mid-1950s, it brought with it the winds of change and growth for the Southern California desert city. The Alexanders, already successful developers in L.A., arrived in the desert and began building moderately-priced homes for middle-income families and second home buyers.
These "Alexander homes" would help fill the need for accessible housing as Palm Springs' year-round population began to grow. The company was founded by Robert Alexander with the financial backing of his father, George, building tract houses that were priced moderately at $19,500 in south Palm Springs, a location at that time not considered fashionable. Each new development was increasingly ambitious, adding amenities and square footage. By the end of the 1950s, the Alexanders were building in northwest Palm Springs, traditionally the haven of the wealthy and "Old Hollywood" crowd.Soon, the company was building larger homes and expanding to neighborhoods that had previously been exclusive to the wealthy and the Hollywood crowd. The Alexander Construction Company would go on to build over 2,200 homes across the Coachella Valley between 1947 and 1965.
Part of the key to their success was their relationship with talented young architects. William Krisel, of Los Angeles–based firm Palmer and Krisel, was responsible for designing a large percentage of Alexander homes. Krisel was also key in the design of the Alexander Construction Company's first subdivision, Twin Palms Estates was the first subdivision by the Alexanders—where each home came with two palm trees. Developed from 1957 to 1958, the neighborhood is located just south of the Ocotillo Lodge, which was the first Alexander construction project in Palm Springs and served to host prospective buyers of homes in the subdivision.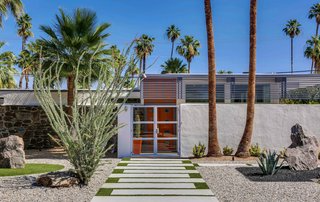 This updated 1957 home in the Twin Palms Estate features the subdivision's signature palm trees front and center. Photo courtesy of the Paul Kaplan Group
The Racquet Club Estates homes were developed from 1959 to 1962 by the Alexander Construction Company and Krisel. Buyers were offered almost identical floor plans, which had been tweaked by the architect to create a non-repetitive tract. A variety of exterior details and five different roofline options added a sense of diversity. The Alexanders also successfully streamlined their process by storing materials on site (in a warehouse designed by Krisel) so that projects could be completed quickly. The construction of these homes doubled the size of Palm Springs and caused the city to take on a new shape, direction, and character as an enclave of modern architecture. These houses, collectively known as "Alexanders," have come to be appreciated for their rational designs, modernist style, and innovative construction and are now highly sought after, selling for a premium over their more conventional contemporaries.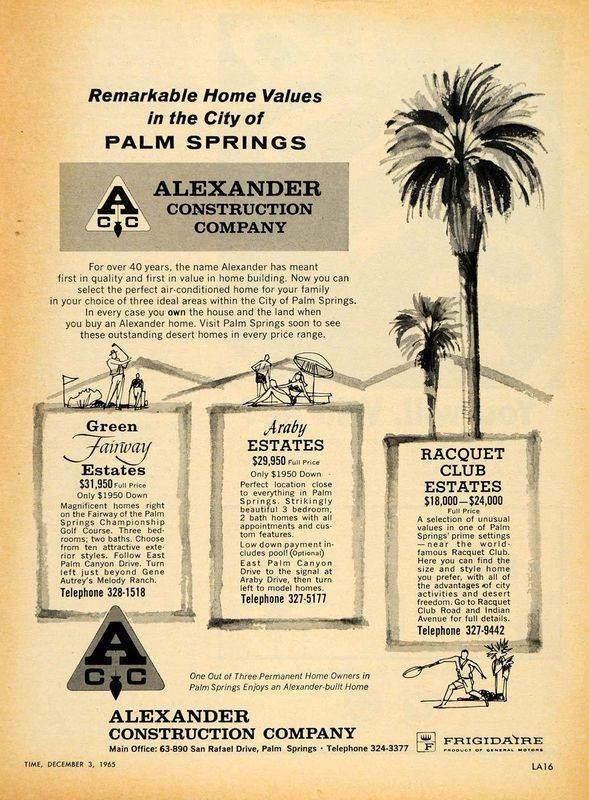 In the early 1960s, the Alexanders tapped Palm Springs architect Donald Wexler and his business partner at the time, Richard Harrison, to plan and design a neighborhood of 40 prefabricated steel homes. Wexler believed that steel was the best building material for the desert, so they teamed up with the prefabricated steel panel company Calcor, and steel producers US Steel and Bethlehem Steel.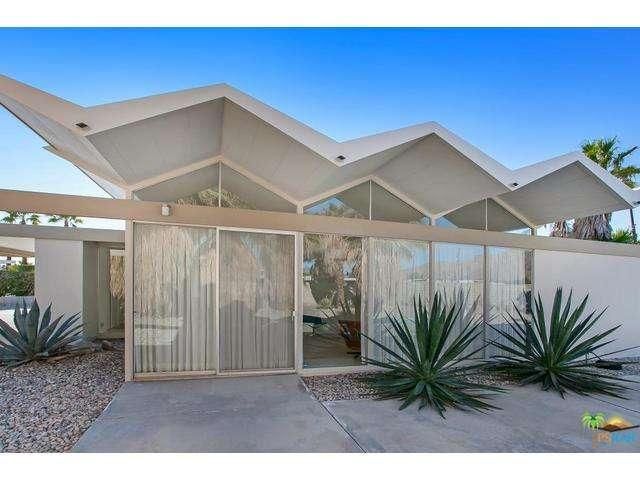 The design consisted of a concrete slab with a prefabricated kitchen and bath that served as the central core. Each house could be built in just two days, however only seven models were constructed before the soaring cost of steel made them unable to complete the project.
When Wexler and Harrison's steel homes first hit the market in 1962, they were competitively priced between $13,000 and $17,000. Each major room features floor-to-ceiling glass panels and sliding doors that are all eight feet high.
The majority of Alexander homes were designed by architect William Krisel, of Palmer & Krisel. Exceptions include those with an A-frame facade, somtimes referred to as "Swiss Misses," designed by Charles Dubois, and homes in the Tahquitz Creek Golf area in south Palm Springs which were also designed by Donald Wexler.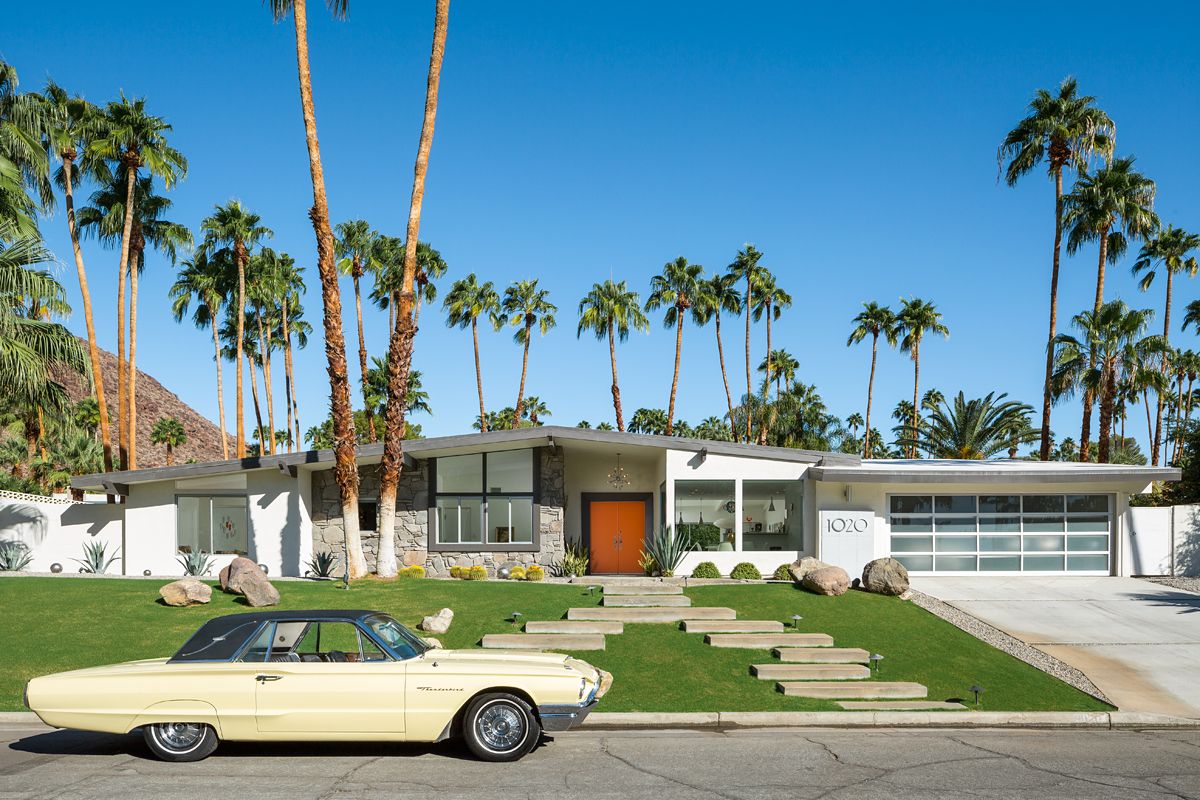 Many of these later houses exceeded 2,000 square feet, with the largest adding another 600 square feet. A swimming pool was included in all of these designs, priced then from the high $40,000s to the low $50,000s. The neighborhood, known today as Vista Las Palmas, became the neighborhood of choice for the "New Hollywood" crowd seeking weekend Colorado Desert escapes. Dinah Shore, Dean Martin, Joan Collins, Marilyn Monroe, and Harold Robbins each owned an "Alexander." Frank Sinatra`s home by E. Stewart Williams is nearby. Nancy Sinatra still lives in the neighborhood.
The most well-known Alexander house in Las Palmas is the Lawford/Kennedy house, originally built for Peter Lawford, connected by marriage to the Kennedy family and a charter member of the Rat Pack. During a visit to Palm Springs, President Kennedy was to have stayed at Sinatra`s house, but ended up at Lawford`s instead because of Sinatra's connection to organized crime luminaries. The proximity of Lawford`s house to Marilyn Monroe`s supposedly gave rise to a rendezvous between JFK and Monroe. Go to: http://www.jetsetmodern.com/issue5/swissmiss.htm for more detailed information.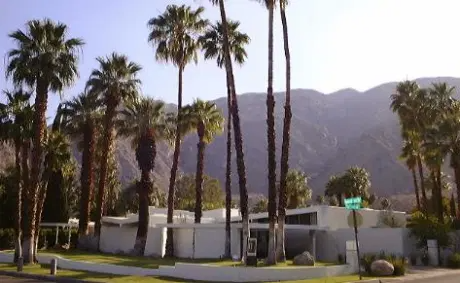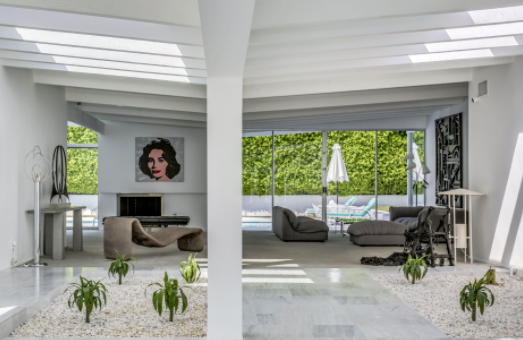 The Lawford/Kennedy house, Vista Las Palmas
Another well-known Alexander is the "Honeymoon Hideaway" at 1350 Ladera Circle, built by Robert Alexander for his wife in the early 1960s. The house and the Alexanders achieved some level of national celebrity when an eight-page article featuring the house and the family appeared in Look Magazine in September 1962. The article portrayed the Alexanders and their estate as the center of social activities in Palm Springs in the early 1960s.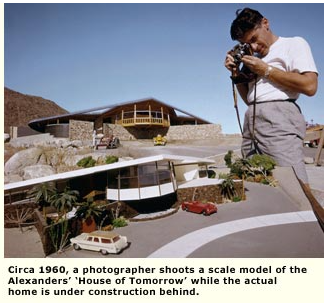 George and Robert Alexander and their wives were killed on November 14, 1965, when the chartered Learjet they were aboard crashed in the Little Chocolate Mountains near Indio, while on a flight to Burbank. They were survived by daughter Jill, who was 11 at the time and not on the plane. The company ceased operations with the deaths of its principals. However, the classic homes they built still resonate with midcentury design enthusiasts around the world—and their legacy lives on. The Alexander Construction Company played a pivotal role in shaping Palm Springs into the midcentury Mecca that it remains today.
Read More about the Alexanders here
——————————————————————————–
Jack Meiselman, Developer/builder
What characterizes a Meisleman Home?
Similar to the Alexander Homes, a Meiselman Home epitomizes the mid-century tract home revolution. It`s indoor/outdoor desert friendly design was on the cutting edge of mass-market modern movement. Indeed they were sleek and modern with crisp clean lines often with butterfly roofs and soaring clerestory windows. They were built using Post and Beam construction with tongue and groove ceilings and generous amounts of architecturally sculpted concrete block. The walls of glass often look out onto an oversized pool and the homes themselves are situated on 1/4 acre lots. They were also quite technologically advanced for their time with forced air heating and central air conditioning, an amenity that suddenly offered year round enjoyment of the desert. On top of all that, they were cheap. Initial sales price for the "entry level model" was around $18,500 in 1959.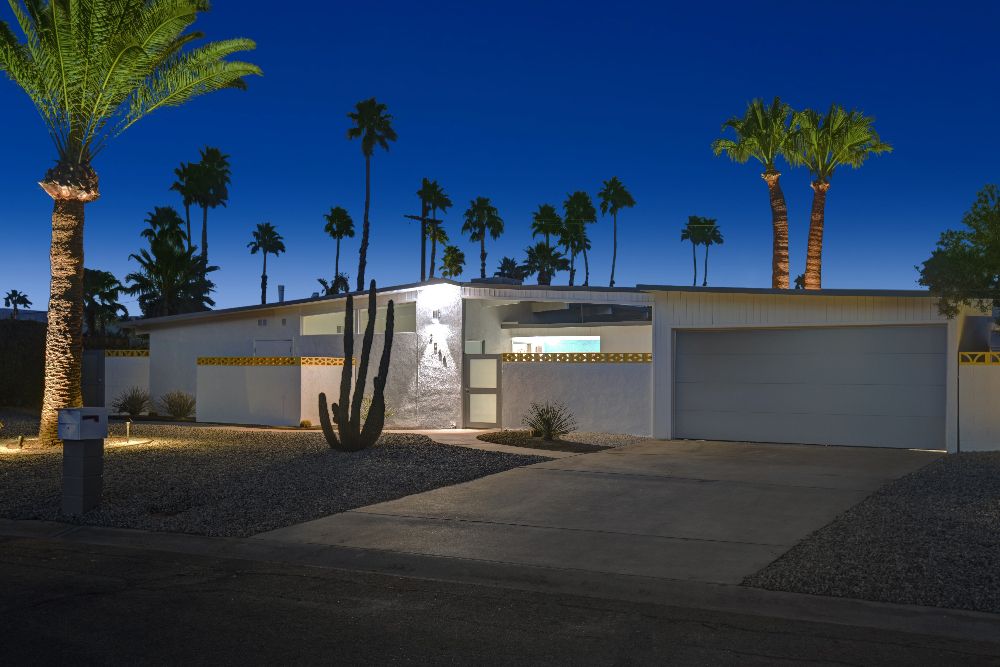 Alexander and Meiselman Homes are often confused because they are so similar in appearance and they are interspersed with one another and are sprinkled throughout Palm Springs.
Who is this Meiselman character anyway?
Little is known about Jack Meiselman. He was a local builder, worked with Bob Alexander in a joint venture on a number of the Alexander Construction homes. At some point there was a falling out between the two men. Seeing an opportunity with these new tract homes, he and his brother Bernie Meiselman would follow wherever Alexander was buying land, then they would buy the adjacent parcels. Jack came up with a "Modified Alexander" layout and built roughly 350 tract homes sprinkled amongst the Alexander Homes.
Bill Krisel (architect for Bob Alexander`s homes) has been known to say "Jack Meiselman was a cheap hack who stole our plans and built a poor imitation using inferior materials and unskilled labor! That`s all I have to say about him." Krisel also stated once, "you know the guy in the parade that follows the horses sweeping up the pool? Well that was Jack Meiselman." Clearly there was some annimosity there!
While one must admit that Meiselman`s methods might have been unscrupulous at best, some may disagree with Mr. Krisel on a few points. A Meiselman Home is no more cheaply built than the equivalent Alexander. They all used the cheapest materials available. Also, Meiselman introduced separation of space by configuring the guest rooms on the opposite end of the house from the Master.
And finally, Alexander and Meiselman were both in this game for the money. To make money on these homes you had to do 3 things: Buy the land cheap, use cheap labor, and build with cheap materials. What happened in the process is that they defined affordable desert modernism and carved out a unique niche of modern homes in the late 50's and 60's.
The designs of these homes are still as strong today as they were 50 years ago. Witness the incredible resurgence of mid-century mania here in Palm Springs in the last number of years. Still somewhat affordable by California standards, the smaller homes are still selling anywhere from $400-$600K depending on condition and the larger ones can easily go for over a million, depending on neighborhood.
Many of these homes fell into great disrepair during the 80`s and 90`s. Hard times hit Palm Springs and the economic downturn actually turned out to be a blessing for preservation. People could not afford to tear the old houses down. So they stood and rotted away. With the dot com boom and the resurgence of interest in all things mid-century, these petrified jewels became hot tickets. People started buying them in the late 90`s for a song ($20-$120K) and fixing them up. Some fixed up properly, some are complete travesties. A mid-century tract home was never meant to be remodeled in the Spanish Revival style. Or worse, the Victor Mature house with its hideous mansard roof. Most of them however, have been treated with the respect they deserve. Prices in 2021 have been well over $1,000,000 for some of these homes.
——————————————————————————–
Roy Fey, Developer/builder
Roy Fey, Roy a former accountant from Chicago, moved his family to Palm Springs in the 1950s, and began a small real estate development empire. Fey became a veritable institution in the desert and one of the best-known builders in Palm Springs.
The name Fey and the south end of Palm Springs are almost synonymous in Palm Springs. Developments such as Canyon View Estates, Canyon Apartments, Canyon West Estates and Canyon Vistas Estates are all projects built by Fey.
In 1962 Roy Fey was the first person to introduce the concept of condominium building into the area by converting Desert Skies. At the time, condominiums were such rare beasts that there were no state statutes nor laws governing such a conversion. Fey even had to draw up his own documents and forms.
"When I went to the city to file the forms, the officials said, 'What are you talking about? Condominium? How do you spell it?' There was a big article on the front page of the newspaper shortly after that read 'ROY FEY RAPES LAND' because we altered the density ratio by taking what was normally three to the acre and making it five to the acre, " according to Fey in a 1980 article in the Palm Springs Life magazine.
Fey also was the first to build "executive homes" — a concept that provided all the privacy of a large home with all the facilities normally found in a condominium complex.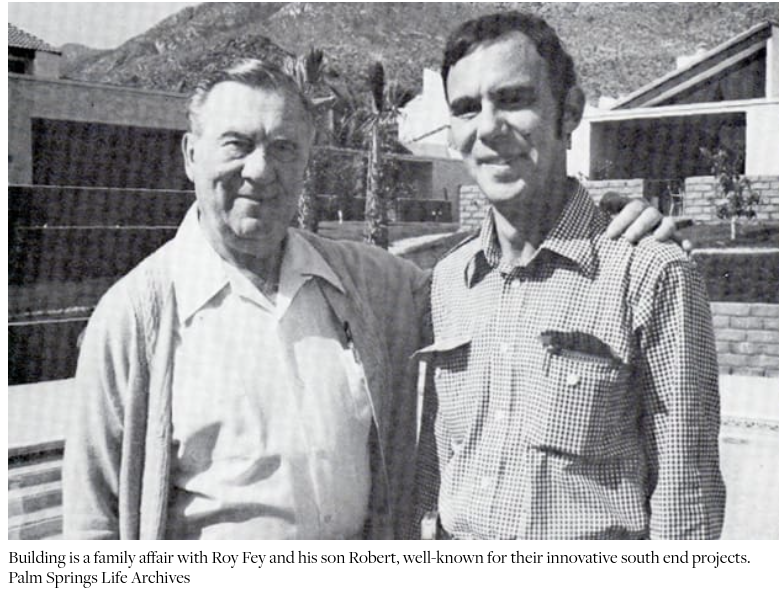 He worked with some of the most prominent architects of the Southern California Modernist movement, such as Donald Wexler. Wexler designed El Rancho Vista Estates, built in the late 1950s. It remains largely intact, with almost all of the homes in the neighborhood having been restored and renovated over the last 20 years.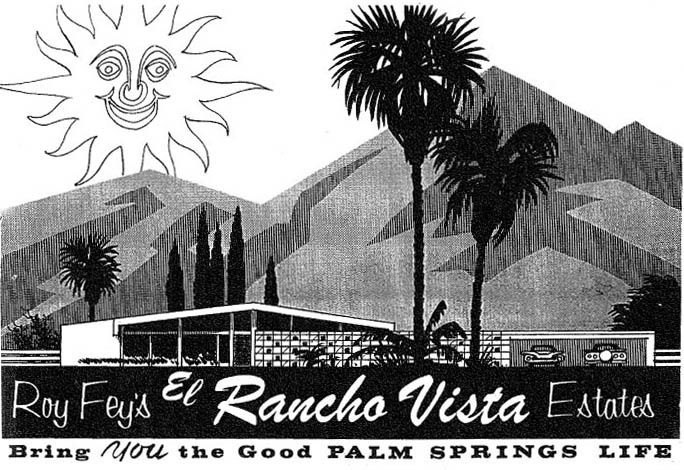 Condominium community projects he built were: Canyon View Estates (designed by William Krisel), Canyon Estates, Mesquite Canyon Club as well as many other homes in Indian Canyons.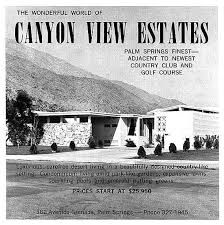 ——————————————————————————–
There were other local architects and designers including Hugh Kaptur, Howard Lapham, Larry Lapham, Walter White, Robson Chambers, who are credited with this explosion of modern design in the Coachella Valley. They left their imprints on Desert Modernism designs including homes, country clubs, hotels, banks, libraries, schools, churches, civic buildings, gas stations and retails spaces. All of these architectural wonders all make up the unique atmosphere of the greater Palm Springs area.
These architectural visionaries succeeded in creating the architectural infrastructure that fits with the desert's classic leisure lifestyle- what we now call Desert Modernism.
Looking for a Desert Modern home of your own?
See what's currently on the market in the Palm Springs area.
Look for houses here.