Architects Who Shaped Palm Springs: Albert Frey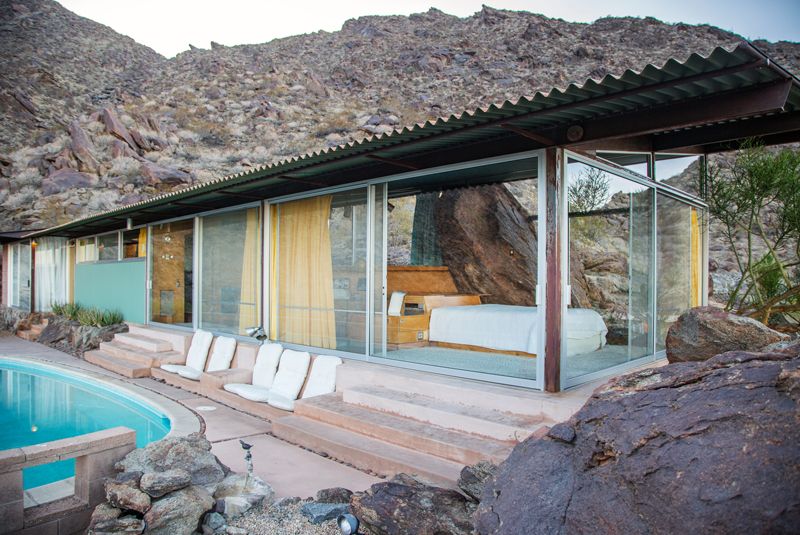 Frey House II
Written by Katy Carrier
The Paul Kaplan Group is grateful for architects like Albert Frey, FAIA, who have helped shape the "Desert Modernism" movement in Palm Springs.
Born in 1903 in Zurich, Switzerland, Albert Frey was the only child to a pianist mother and business-owning father. Frey grew up encouraged to study architecture and did so at Winterthur's Institute of Technology in Winterthur, Switzerland, completing his architectural degree in 1924 and subsequently beginning to practice throughout Europe. The budding architect quickly built a name for himself, landing roles at Eggericz and Verwilghen in Brussels and Le Corbusier's atelier in Paris. Despite succeeding in these European ventures, Frey ultimately dreamed of working in America.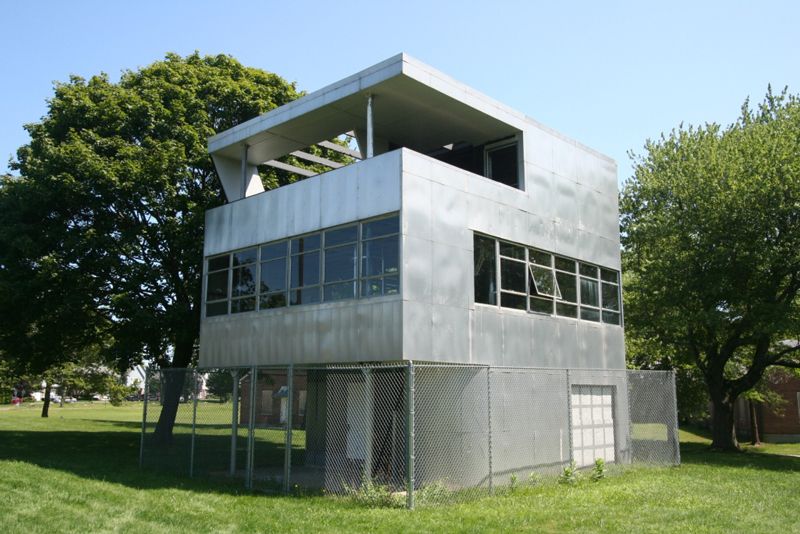 Aluminaire House
At the age of 28, his goal was realized. Frey arrived at Ellis Island in September of 1930 and within days started practicing at the office of A. Lawrence Kocher. In 1931, Frey and Kocher designed Aluminaire House, a prefab metal case study that attracted more than 100,000 visitors in just one week while part of the 1931 Architectural and Allied Arts Exposition in New York. Aluminaire House is planned to be permanently relocated to downtown Palm Springs.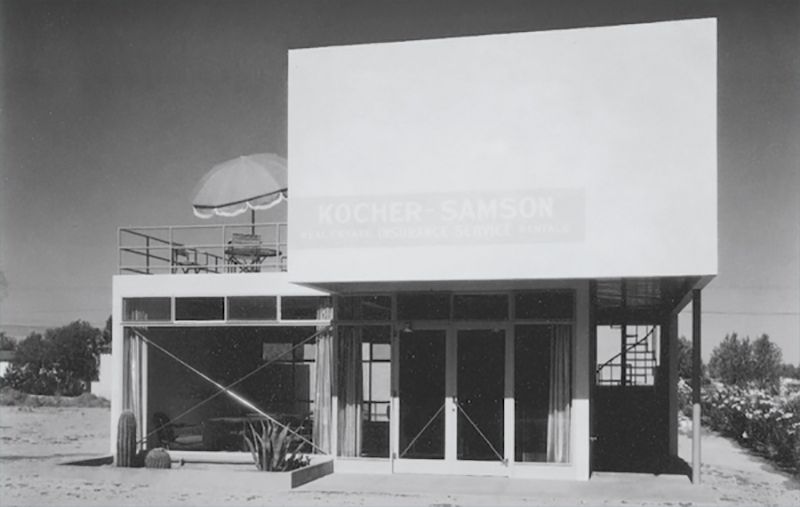 Kocher-Samson Building
In 1934, Frey traveled to Palm Springs to oversee the building of one of his designs in collaboration with A. Lawrence Kocher, the Kocher-Samson Building, which was commissioned by A. Lawrence Kocher's brother, physician Dr. Jacob John Kocher. The Kocher-Samson building is considered Palm Springs' first modernist, international-style building. While in Palm Springs, Frey met architect John Porter Clark, who welcomed Frey's collaboration. Excited by the results of some early shared projects, including the San Jacinto Hotel in Palm Springs (now the Movie Colony Hotel) and the Wright Ludington House in Rancho Mirage, Frey and Clark decided to officially join forces in opening an architectural firm. Architect Robson C. Chambers joined the firm as a partner in 1952, with the trio working together until Clark left the firm in 1956.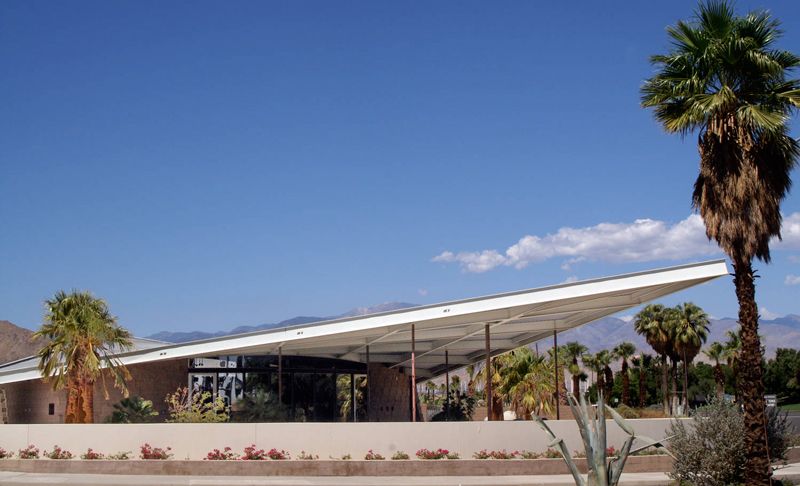 Tramway Gas Station
Frey's designs in the Palm Springs area include Palm Springs City Hall (1952-57; Frey, Clark and Chambers), the Aerial Tramway Valley Station (1963; Frey and Chambers), the Tramway Gas Station (now the Palm Springs Visitors Center) (1965; Frey and Chambers), a number of homes, including the Raymond Loewy House (1946-47; Frey and Clark) and Cree House II (1955-56; Frey and Chambers), and many more civic, commercial and residential projects.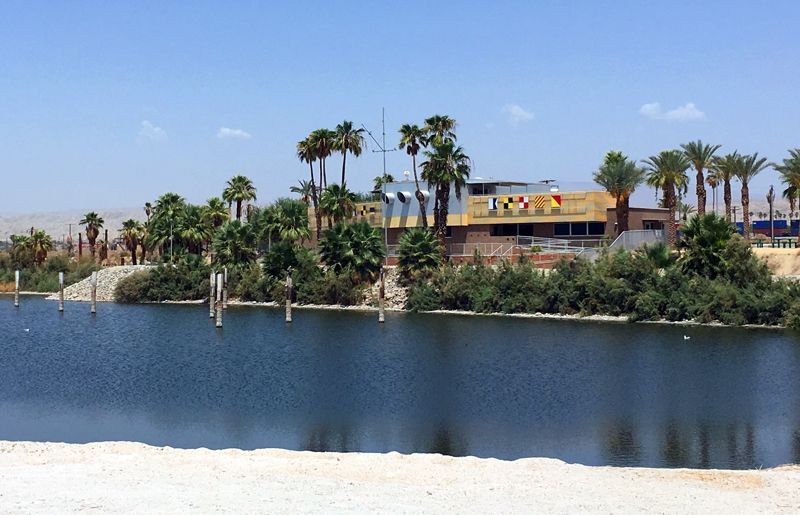 North Shore Yacht Club
In 1959, Frey designed the North Shore Yacht Club along the northeastern shore of the Salton Sea. A 1960 hotel project by Frey in north Palm Springs, the Monkey Tree Hotel, was restored and re-opened earlier this year.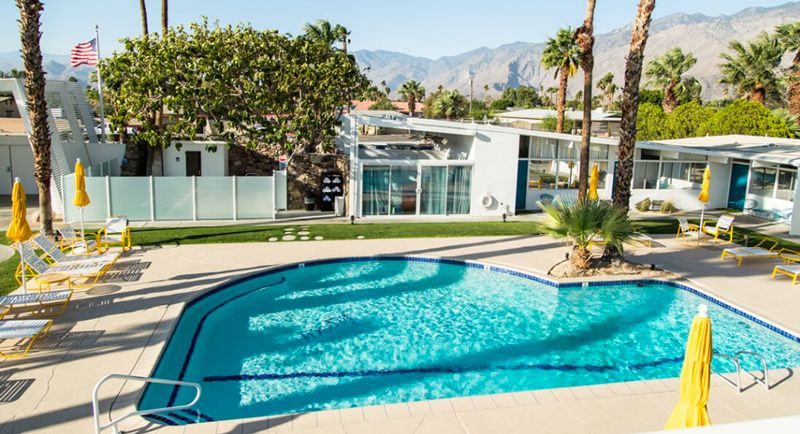 The Monkey Tree Hotel
Perhaps the pinnacle of Frey's work is Frey House II, the second home Frey built for himself in the desert. Nestled into the hillside, the diminutive-yet-striking home features a boulder jutting into one side, forming a natural partition between the main living area and a built-in bed. Nearly all of the home's furniture is built in, making efficient and judicious use of the 800-square-foot space.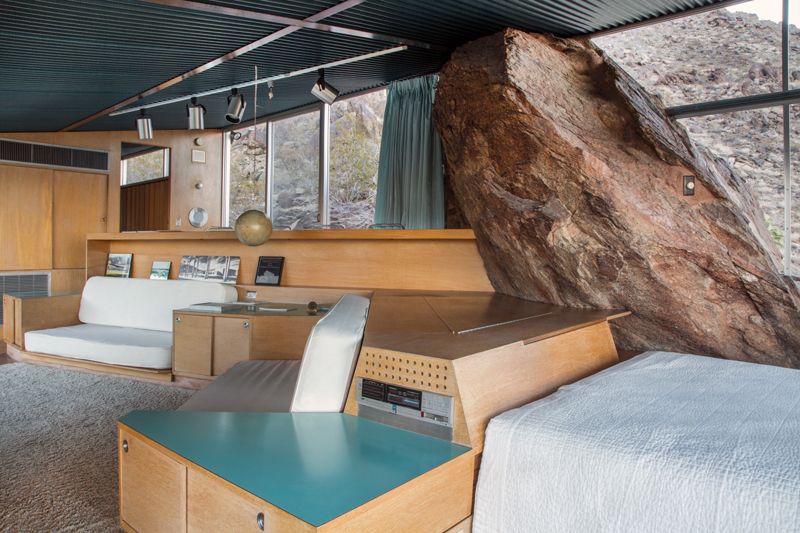 Frey House II
Frey lived in the home until his death in 1998. Frey House II and its contents were then bequeathed to the Palm Springs Art Museum, along with an endowment for the home's preservation. Frey's longtime companion, Jean Farrar, passed away just last month at the age of 89. Farrar was the first yoga instructor in the Coachella Valley during the 1950s, teaching yoga, health and meditation to stars like Greta Garbo, Mae West and the Marx brothers. Frey himself was also an ardent yoga practitioner, shown below in an inversion at Frey House II.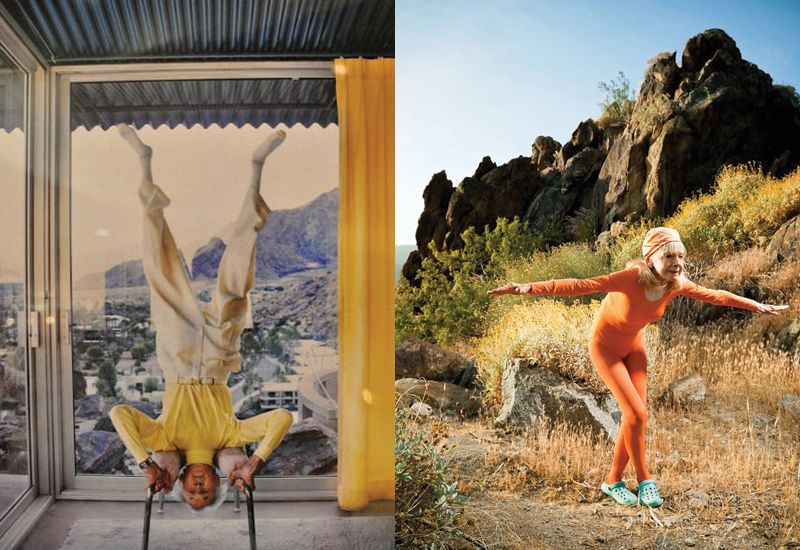 Albert Frey (left); Jean Farrar (right)
Frey was honored posthumously in 2010 with star on the Palm Springs Walk of Stars in recognition of his important contribution to Desert Modernism.
To search for architectural homes in Palm Springs, please contact The Paul Kaplan Group at 760-459-1396.
Images: Aluminaire House via Jenosale/Flickr; Kocher-Samson House via Palm Springs Life; Frey House II by Bethany Nauert for Palm Springs Style; Tramway Gas Station via SuperRadNow.wordpress.com; North Shore Yacht Club by Camron Carrier; Monkey Tree Hotel via Monkey Tree Hotel; Jean Farrar by James Schnepf