Are we looking at a housing crisis?
A Recession does not equal a housing crisis. Experts predict that the real estate market won't be as adversely affected by the COVID-19 crisis, like it was during the Great Recession. The following information is provided from @Keepingcurrentmatters. Despite troublesome signs, there are several reasons to be optimistic that the housing market is in good shape to weather a downturn.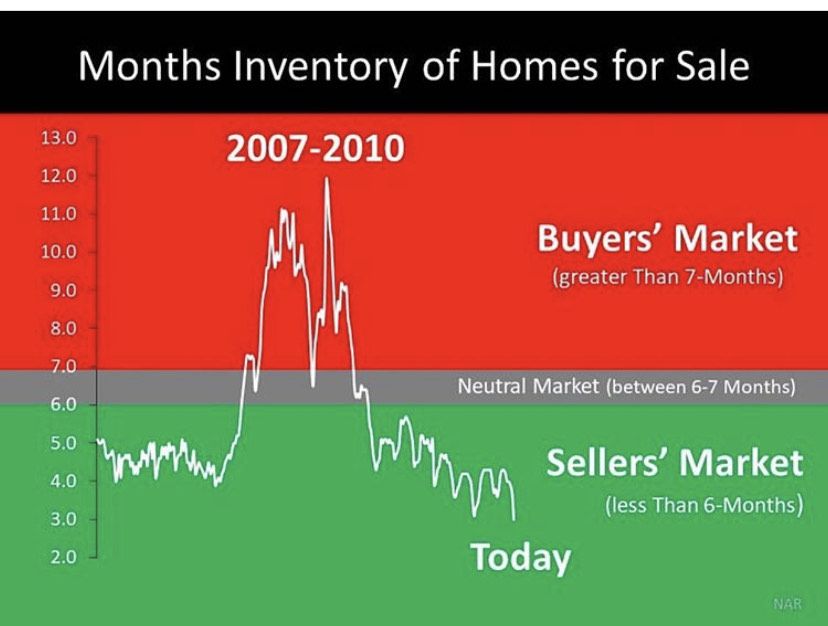 There was an inventory buid-up in the seven months leading up to 2006 that continued going into 2007 and 2008. Inventory was EXTREMELY high.
The above graph communicate something very powerful and proves a very important point for those who think we're heading for another real estate crash/crisis.
High inventory played a very pivotal role in the conditions that led to the previous crash. It wasn't the only reason it happened, but it was one of the big players.
The current low inventory of today's market as noted in the graph, shows just how different the market looks today. AND that we're in a great position to bounce back once this passes and business resumes.
Per CoreLogic.com, "the demographic structure of the United States should continue to support prime-household growth for over the next two decades. Currently, just under 46 percent of the U.S. population is under 35. As this cohort ages and gets their housing-market sea legs, we should expect them to form new households as they enter into their peak marital and child-bearing years. For example, The Harvard Joint Center for Housing Studies estimates Millennial households are expected to grow by 32 million over the next twenty years. That's a lot of new homes that will be needed, regardless of whether they buy or rent. This surge in demand should continue to put upward pressure on the housing market until at least 2040."
Real estate and financial experts support this, with many predicting that the economy will rebound quickly and that home values will STILL continue to appreciate this year despite our current economic turmoil.
Good news! We've got this and are here to help to answer any of your real estate questions at The Paul Kaplan Group.


Have questions?
We're here to help you during this strange real estate market we're in.
Please Contact us here